Maine Arts Monthly - October
---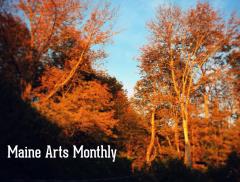 October is sporting its brightest colors throughout Maine, and with autumn's splendor comes a cornucopia of wonderful programming from our Partnership Grant recipients. Starting in mid-October a number of performing arts venues will be kicking off their seasons with compelling and original debuts. There will also be workshops hosted from Eastport to the midcoast that combine music, culture and craft making. And let's not forget some tricks and treats for the Halloween season with a suspensful Stephen King adaptation making its Maine premiere in Bangor this month.
10/22 Symphonie Fantastique 3 p.m. Collins Center for the Arts
Guest pianist William Wolfram brings his formidable style and expertise to Bangor for Liszt's Totentanz before Berlioz's truly fantastic Symphonie Fantastique. Mussorgsky's energetic Night on Bald Mountain will start the program.
A program of macabre masterpieces opens the season, just in time for Halloween.
10/15 Roaring Jelly East 4:30 p.m. - 6:00 p.m. reoccurs every Sunday through Nov 12.
Features a gaggle of musicians of all ages who love to play traditional tunes of Maine, Maritime Canada, and the British Isles:
Players of all levels of experience welcomed on fiddles, mandolins, guitars, dulcimers, flutes, recorders, whistles, percussion, and just about anything else.
10/22 Part 1 of Two-Day Workshop: Create with Clay 2:00 p.m. - 4 p.m. Part 2 resumes on Nov. 5
Participants of all experience levels are welcome to come build something as simple as a soap dish, or as complicated as a figure sculpture.

After the first workshop day, projects will be fired in Bramble's kiln, and returned to the EAC for the glazing on the second workshop day.

Participants should bring a rolling pin or PVC pipe for rolling, and are also encouraged to bring some textured objects to press into the clay.
10/12- 10/15 The B-Side: Elsa Dorfman's Portrait Photography 6:30 p.m., 2 p.m. matinees. FILM : Presented with the Maine Jewish Film Festival.
A heartfelt documentary on the life and archives of portrait photographer Elsa Dorfman, who works with the large-form Polaroid Land camera.
Over a career that has spanned 35 years, Elsa has photographed Beat poets, rock stars, Harvard notables, and many more. Running time 72 minutes. Film not rated.
10/12, 10/18, 10/20 : Raku Pottery 5:00 p.m. - 7:00 p.m.
Participants will have the opportunity to hand build vessels or throw on the wheel, then experience the exciting process of firing their pottery outdoors in a raku kiln.

The first 2 classes will be for creating and glazing. Firing will take place during the final class.
10/12 - 11/5 Misery 5:00 p.m. and 3:00 p.m. Showtime
A Maine premiere of the faithful adaptation of a Stephen King classic, romance novelist Paul Sheldon is rescued from a car accident by his "Number One Fan," Annie Wilkes, and wakes up captive in her secluded home.
Secure an autographed first edition. We will auction three first-edition copies of Misery, the novel, autographed by the author. Each will be auctioned separately

Following the 5:00 pm Opening Night performance, October 14
Following the 3:00 pm performance, October 15
Following the final performance, 3:00 pm, November 5.
Filter Press Releases
Contact Information
Ryan Leighton
193 State Street
SHS 25
Augusta
ME
04333
207-287-2726
vog.eniam@nothgiel.j.nayr