UMaine Museum of Art announces Jack Balas: Maine and Again
---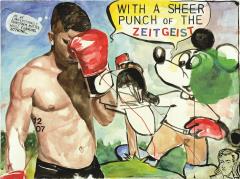 UMaine Museum of Art announces Fall Exhibition
BANGOR – The University of Maine Museum of Art, located at 40 Harlow Street in downtown Bangor, opens four new exhibitions
in September. UMMA is open Tuesday-Saturday from 10 am - 5 pm and brings modern and contemporary art to the region,
presenting approximately 12 original exhibitions each year. UMMA's fall shows open to the public on September 15 and run
through December 30, 2017. Admission to the Museum of Art is free in 2017 thanks to the generosity of Deighan Wealth
Advisors.

JACK BALAS: MAINE AND AGAIN
September 15 - December 30, 2017
Maine and Again, features over forty works by painter Jack Balas, who lives and works in Arizona and Colorado. The UMMA
exhibition is the largest assembly of the artist's works to date. Balas's works, principally watercolor on paper and oil on canvas,
are featured in a wide range of sizes including small compositions, multi-paneled paper pieces and several large canvases.
For nearly twenty years the depiction of athletic, youthful men, primarily of the all-American type, has been a focus of Balas. The
artist's buff subjects, some of whom seem to have just finished a gym session, offer a counterpoint to the proliferation of images
of women throughout art history. These images of idealized masculinity celebrate the virility and wished-for invincibility of youth.
Balas's male subjects, at this particular stage of their lives, are full of desires, confidence, and hope. They possess an optimism
and vitality as yet unfettered by the pressures of life.
Central to Balas's creative process is the layering of seemingly disparate elements and painting styles within each work to create
a fertile ground for contemplation. For example, in ZEITGEIST (#1207), we are left to ponder the relationship between a realist
depiction of a muscular young boxer, a hastily-rendered outline of Mickey Mouse, thought bubbles with hand-drawn text, and a
circular pool of bright green paint. Balas's practice of journaling and story-telling is evident in the hand-drawn scrawled text and
poetic passages that weave their way through many of the paintings.
The exhibition includes a selection of images that retell the artist's adventures touring Maine as a young man in the 70s. Balas
captures the lure of Maine's varied landscape and creatures, as well as memorable moments for him such as meeting Andrew
Wyeth, exploring coastal fishing villages, and hiking to the summit of Mt. Katahdin.
Maine and Again–a mid-career survey of sorts–features a number of just-completed works that are his largest canvases to
date. Portage (Evening Would Know My Reply)(#1470), an 80 x 90-inch work from 2017, highlights the pleasures of summer.
The artist has juxtaposed a painting of a log cabin, a linear drawing of an Adirondack chair, and two shirtless guys: one hugging
a pine tree, the other crouched down in a game of catch. The cohabitation of Balas's imagery ignites curiosity and sends the
viewer on a search for meaning.
Admission to the Museum of Art is FREE in 2017 thanks to the generosity of Deighan Wealth Advisors.