Arts Funding 2018: Grant Presentation - Waterville
Date: January 25, 2018
Time: 05:30 PM - 06:30 PM
Location: Waterville Public Library , Waterville
---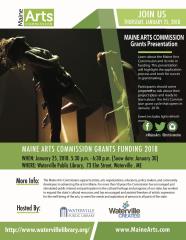 Learn about the Maine Arts Commission and its role in funding. This presentation will highlight the application process and the tools for successful grant writing. Participants should come prepared to talk about their project ideas and be ready to learn about the Arts Commission grant cycle that opens January 2, 2018.
WHEN: January 25, 2018 - 5:30 p.m. - 6:30 p.m.
WHERE: Waterville Public Library, 73 Elm Street, Waterville, ME 04901
Hosted by: Waterville Public Library, Waterville Creates.
Filter Events
Venue
Waterville Public Library
73 Elm Street
Waterville
ME
04901
Organization
Maine Arts Commission
Kerstin Gilg
207-287-6719
vog.eniam@glig.nitsrek