French Language Christmas Sing Along
Date: December 14, 2022
Time: 01:00 PM - 02:00 PM
Location: USM Franco-American Collection, Lewiston
---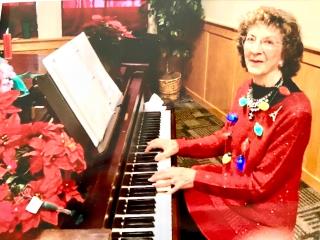 The Franco-American Collection at the University of Southern Maine, Lewiston-Auburn College presents:
A French Christmas Sing Along
Lewiston pianist Jeannette Gregoire will provide musical accompaniment
The Franco-American Collection at the University of Southern Maine invites you to join us in-person fora French language Christmas sing along! The sing along will take place at 1 p.m. Wednesday, December 14 in Room 170 at USM Lewiston-Auburn College, 51 Westminster St. in Lewiston. In case of inclement weather, we will meet the next day, 12/15 instead. This event will be in-person only. We hope to see you there!
Attendees will be led in singing a selection of French Christmas favorites accompanied by pianist Jeannette Gregoire. Song sheets will be provided so all in attendance can share in the singing.
Refreshments will be served, including tourtiere provided by Franco-American Collection board members Juliana L'Heureux and Ray and Sue Lagueux.
There is no fee for our programs, which are made possible by the Québec Delegation in Boston and Androscoggin Home Health. Interested in learning how to become a sponsor of the Franco-American Collection? Email anna.faherty@maine.edu for more information. Merci!
If you have questions about disability access or need to request disability accommodations (e.g. sign language interpreters, materials in electronic format, etc.), please contact Anna atanna.faherty@maine.edu. Requests should be made as soon as possible to allow sufficient time for the accommodation process.