International Artist Hilmar Gottesthal Exhibit & Benefit Event
Date: June 22, 2018 - June 23, 2018
Time: 11:00 AM - 07:00 PM
Location: Orr's Island Schoolhouse, Harpswell
---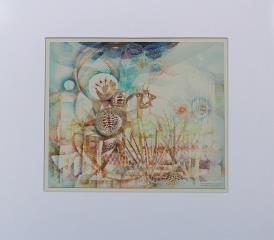 The international artist, Hilmar Gottesthal, will hold an exhibition and art sale on June 22 and 23 at the Orr's Island Schoolhouse to benefit Harpswell Aging at Home (HAH). The exhibition will be open from 1-7 PM on Friday and 11 AM to 7 PM on Saturday. At 5:30 PM both days, the artist will talk about his work, and wine and cheese will be served. The artist will donate 30% of the proceeds of the sale of his art to HAH.
Mr. Gottesthal, known for his painting, sculpture, and stained glass, will display a variety of his works. He drew international attention with his squid ink drawings, using sepia ink he developed from the cuttlefish squid; some of these unique quill-drawn pieces will be included at the exhibition.
The artist's painting style can be described as pointillistic and sometimes mosaic-like. A reviewer in Le Progres, a newspaper in Lyons, France, describes his watercolor technique as "delicate and fluid" and comments he "passes on his message like a poet philosopher." Mr. Gottesthal has had solo exhibitions in Austria, Turkey, Greece, England, France, Germany, Mexico, and numerous states in the U.S., and his work is included in numerous private collections. In 2002, he was invited to the artists' reception at the White House for the stained glass Christmas ornament he made for the National Tree; this ornament has become part of the permanent collection.
Mr. Gottesthal resides in Western Maryland, with his photographer wife, Penny Knobel-Besa.
Harpswell Aging at Home is a community organization helping older adults address the challenges of aging at home.
Filter Events
Venue
Orr's Island Schoolhouse
1579 Harpswell Islands Rd
Harpswell
ME
04066
Organization
Harpswell Aging at Home
Jess Maurer
207-332-1640
gro.gniganolicnuoceniam@reruamj