Jane Herbert a Solo Exhibition of Paintings
Date: August 1, 2020 - August 30, 2020
Time: 10:00 AM - 05:00 PM
Location: Richard Boyd Art Gallery, Portland
---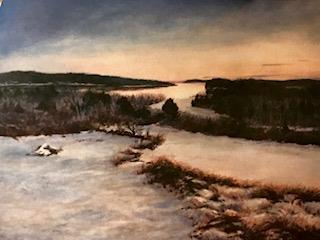 (Portland, ME) Richard Boyd Art Gallery is pleased to announce the opening of a solo exhibition of paintings by noted artist Jane Herbert on August 1 at 10 a.m.
A year-round resident of Damariscotta, Maine Jane's traditional style paintings capture the picturesque landscapes and charm of her seaside village community. Her current series of paintings are a visual expression of life along the coast and reveal her observations of the beautiful but rugged coast of Maine.
Jane's paintings are widely collected and held in numerous private and public collections. The exhibit is open free of charge between the hours of 10:00 a.m. and 5:00 p.m. daily through August 30, 2020.
When the exhibit opens you can view images of her paintings on our website at http://www.richardboydartgallery.com click on the Current Exhibit tab. Images of the paintings hanging in the gallery will be available for viewing on our Facebook page http://www.facebook.com/RichardBoydArtGallery .
For more information about the exhibit contact the gallery by phone at (207)-712-1097, via email at info@richardboydartgallery.com or visit www.richardboydartgallery.com .
Copyright© 2020 Richard Boyd Art Gallery All Rights Reserved