Making the Archives Sing! Voicing Histories
Date: September 14, 2019
Time: 07:00 PM
Location: The Cannery at South Penobscot, Penobscot
---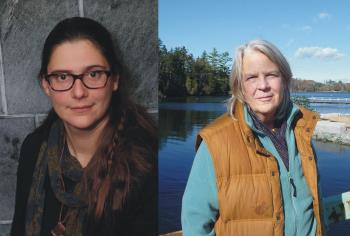 Making the Archives Sing! Voicing Histories
SIDELINES/ In Translation Series: Collaborations from the world in more than one language initiated by Beatrix Gates for The Cannery at South Penobscot
Poetry READING & CONVERSATION:
with award-winning poets
Julia Bouwsma & Beatrix Gates
Bouwsma & Gates will present their approaches to creating an active conversation between personal experience and historical experience by investigating connections to and distance from histories in question. They will read from completed work and work-in-progress.
Julia Bouwsma lives off-the-grid in the mountains of western Maine, where she is a poet, farmer, editor, and small-town librarian. She is the author of two poetry collections: Midden (Fordham University Press, 2018) and Work by Bloodlight (Cider Press Review, 2017). Honors she has received include the 2019 and 2018 Maine Literary Awards; the 2016-17 Poets Out Loud Prize, selected by Afaa Michael Weaver; and the 2015 Cider Press Review Book Award, selected by Linda Pastan. Her poems and book reviews can be found in Cutthroat, Grist, The Ilanot Review, Poetry Daily, Poetry Northwest, RHINO, River Styx, Verse Daily, and other journals. She serves as Library Director for Webster Library in Kingfield, Maine.
Beatrix Gates' Desire lines will be published by Artifact in 2019. She has published five collections, including Dos and In the Open, a Lambda finalist. She received the Huntington Library Jutzi fellowship to research astronomer Henrietta Swan Leavitt and shared a Witter Bynner Award with Electa Arenal for Jesús Aguado's The Poems of Vikram Babu. A returning fellow at MacDowell & VCCA, hybrid work appears in Scotland's MAP and A Radiance of Attention: Jane Cooper with poems & translations in The Kenyon Review, Tarpaulin Sky and Tupelo Quarterly. At Granite Press, she published the bilingual IXOK AMAR.GO, Central American Women Poets for Peace. A Goddard MFA faculty member, she has taught writing and literature for over twenty years at Colby, NYU, CCNY, and BC's QUEST University. She lives in Brooksville, Maine. www.beatrixgates.org.