Materiality: The Matter of Matter
Date: November 11, 2017
Location: Center for Maine Contemporary Art, Rockland
---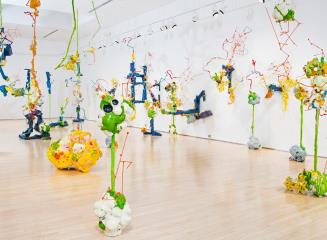 You begin with the possibilities of the material. –Robert Rauschenberg
The question of how and why an artist uses materials has long been a topic of consideration in art history. Today, many artists are looking to this question and seeking to find a balance between what they use to make work and the concepts behind them. Providing agency to the materials themselves, artists are looking at materials as a means of communication, whether they are expanding on traditional media and narratives or utilizing everyday objects to construct new forms. Exploring these concerns in their work, the artists included in the exhibition, all with ties to Maine, are also considering why they choose to work with certain matter in our current material culture and social climate, and the role that these materials play within it.
Artists included in the exhibition are Jackie Brown, Stephanie Cardon, Lisa Kellner, Adam Lampton, Jonathan Mess, Gelah Penn, Emilie Stark-Menneg, Aaron T Stephan, and others.
Located in the heart of downtown Rockland's burgeoning arts district, the new CMCA opened on June 26, 2016, and provides more than 5,500 square feet of exceptional exhibition space for the presentation of work by contemporary artists. The complex also includes a gift shop featuring the work of Maine artisans and designers, an ArtLab classroom, and a 2,200-square-foot public courtyard displaying a monumentally scaled sculpture, Digital Man, by artist Jonathan Borofsky.
CMCA hours for 2017 are: Monday – Saturday, 10am-5pm; and Sunday, 12noon – 5pm. Closed Federal Holidays. Admission is $8; free for those under 18; $6 for seniors and students with ID.