Rustic Overtones 2019
Date: August 31, 2019
Time: 08:00 PM - 10:00 PM
Location: 1932 Criterion Theatre, Bar Harbor
---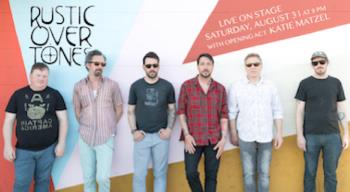 Rustic Overtones are a seven piece rock band from Portland Maine with a discography that spans 20 years. The bands unique version of indie rock is strongly influenced by soul music, garage punk, jazz and psychedelic music of the 60's and 70's.
"A unique sound steeped in both Earth, Wind and Fire-style funk and late-era Beatles psychedelia." -Rolling Stone
"Rustic's firepower-a skintight rhythm section, soulful keyboards, stinging guitars, funky horns and the potent, complex, and totally engrossing voice of front man Dave Gutter" - Billboard Magazine
With opening act Katie Matzel, an up-and-coming singer and songwriter from Portland, Maine who released her debut EP at the start of 2018.
Filter Events
Venue
1932 Criterion Theatre
35 Cottage Street
Bar Harbor
ME
04609
Sarah Jackson
207-288-0829
gro.ertaehtnoiretirc@haras