Schoodic Arts For All Last Friday Concert: Dirge City Pie Company
Date: July 30, 2021
Time: 04:00 PM - 05:30 PM
Location: Gouldsboro Town Park, Gouldsboro
---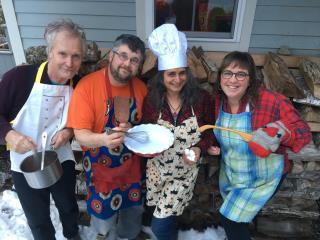 1. Take two beautiful harmony singers from Belfast,
2. Add two from Steuben,
3. Mix with a couple of banjos, a mandolin, an accordian, a guitar, and a fiddle.
4. Throw in a pinch of percussion here and there, and a passel of lovely songs, old and new, and voilå - Dirge City Pie Company! Featuring Annadeene and Tom Fowler, SheilaUnvala and Sepp Huber.
Rain Venue: Hammond Hall, 427 Main St Winter Harbor, 04693
For updates, check Schoodic Arts for All on Facebook