SpinS
Date: November 9, 2019
Time: 07:00 PM - 08:00 PM
Location: Mayo Street Arts, Portland
---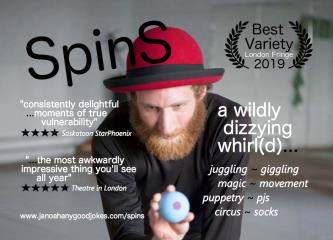 SpinS returns from a 46-show 7-city summer tour across Canada, including Montreal, Winnipeg, Edmonton and Vancouver!

Two Shows!
10:30am doors / 11am show
6:30pm doors / 7pm show

A wildly dizzying whirl(d) of juggling giggling magic & movement, puppetry pjs circus & socks … totally tangled together!

A pajama-clad unicyclist careens on stage, suitcase in tow. Unpacking, he introduces audience to a whimsical world of clothes-pin towers, erratic toothbrushes & gargantuan grins. Juggling with energy & presence, Janoah "anygoodjokes?" constructs a playful performing-partner puppet from piles of props. SpinS frames skill through physical challenge, fashioning hilarious precariousness that is joyful and open. Objects and audience swirl into chaotic creation in this solo circus, recounting the learning and laughter of an itinerant performer.

Fun for all ages, all mixed together!

Winner: Best Variety, London Fringe
"...the most awkwardly impressive thing you'll see all year…"
five stars, Theatre in London

Tickets
Kids/Seniors - $8.00
General Admission - $15.00
Preferred Seating - $22.00

This event is part of Portland Dance Month happening October 4 – November 27, 2019. For more info and a full calendar of events and performances visit www.portlanddancemonth.com.