Threepenny Opera by Bertolt Brecht
Date: November 16, 2017 - November 18, 2017
Time: 07:30 PM
Location: Pickard Theater, Memorial Hall, Brunswick
---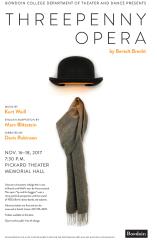 Unsavory characters indulge their vices in Brecht and Weill's tour-de-force musical. This opera "by and for beggars" uses a sharp political perspective and features the sound of 1920s Berlin dance bands and cabaret.
For more information visit www.broadwayworld.com
Sponsored by the Alice Cooper Morse Fund for the Performing Arts and the Kurt Weill Foundation for Music.