Twelfth Night (or What you Will)
Date: November 11, 2017 - November 19, 2017
Location: Main Stage, Russell Hall, Gorham, Gorham
---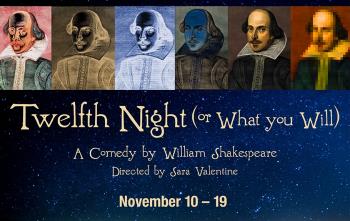 By William Shakespeare
Directed by Sara Valentine
November 10 – November 19, 2017 Friday, November 10 at 7:30 p.m.
Saturday, November 11 at 7:30 p.m.
Sunday, November 12 at 5:00 p.m.
Wednesday, November 15 at 5:00 p.m.
Thursday, November 16 at 7:30 p.m.
Friday, November 17 at 10:00 a.m. – School Matinee
Friday, November 17 at 7:30 p.m. – (Grades 4 & up)
Saturday, November 18 at 7:30 p.m.
Sunday, November 19 at 2:00 p.m.
"My master loves her dearly, And I, poor monster, fond as much on him, And she, mistaken, seems to dote on me. What will become of this?" After surviving a shipwreck and disguising herself in the likeness of her drowned twin brother, the determined Viola becomes the center of a comic series of events: suitors and sword fights; disguise and deception; pranks and predicaments... Filled with some of Shakespeare's most unforgettable characters, eloquent poetry and poignant songs, Twelfth Night reveals the comedy and consequences of mistaken identity, unrequited love and devilish mischief. Don't go in the house.
To Purchase Tickets
Visit usm.maine.edu/theatre, click on Purchase Tickets and make your selection, or call the USM Theatre Box Office at (207) 780-5151, TTY (207) 780-5646.
Plays: $8 students, $12 seniors, faculty, staff, alumni, $16 general public

Discount Wednesdays!
Join us for our 5:00 performances on Wednesdays and get your seat for just $8! ($10 for our musical)
Please arrive at least 15-30 minutes early. Open seating starts 30 minutes before the start of the performance. Performances begin promptly; late arrivals are seated at the discretion of the House Manager.
Those needing special accommodations to participate fully in this program, contact the USM Theatre Box Office (207) 780-5151. Hearing impaired: call USM's telex / TDD number (207) 780-5646.
Filter Events
Venue
Main Stage, Russell Hall, Gorham
24 University Way
Gorham
ME
Lori Arsenault
2077805151
ude.eniam@airol