Winter Members' Showcase
Date: January 17, 2018 - March 3, 2018
Location: Harlow Art Center, Hallowell
---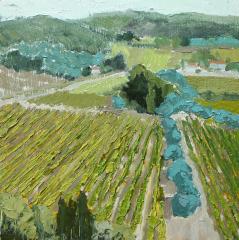 The Harlow Art Center presents the Winter Members' Showcase, on view January 17 – March 3 at 100 Water Street in downtown Hallowell. Come see the new location filled with work by local artists, representing a range of genres and media. A public reception will be held on Friday, January 26 from 5-7pm in tandem with the opening reception for SEVEN, happening at the same time at 160 Water Street, the original location. Hours for the Winter Members' Showcase are Wednesday – Saturday noon-6pm.
Participating artists include Participating artists include Glenn Adams, Nathan Allard, Jacqueline Berry, Robin Brooks, Betty Collins, Teddi Jan Covell, Kristin Eckmann, Julia Einstein, Cheryl Herr-Rains, Rex Holsapple, Dee Keneagy, Suzanne Kelly, Cindy Langewisch, Penny Markley, Catherine Peterson, Jae-Eun Pilsbury, Leecia Price, Gigi Ragasa, Laurie Sproul, and more.

The Harlow Art Center, located at 160 Water Street will remain open into March of 2018. The final exhibition at the original location is SEVEN, which on view January 26 – February 24, 2017. SEVEN highlights the work of Maine abstract painters Emily Blake Blaschke, Jenny LaMacchia Campbell, Alicia Ines Ethridge, Celeste June Henriquez, Doreen Nardone, Brenda Overstrom and Donald M. Peterson. Gallery hours at 160 Water Street are Wednesday-Saturday 12-6pm.
The Harlow Art Center, located in downtown historic Hallowell is home to the Kennebec Valley Art Association, a membership based 501(c)3 nonprofit dedicated to connecting and celebrating art, artists and community in central Maine since 1963. Exhibitions are always free and open to the public.
Filter Events
Venue
Harlow Art Center
160 Water Street
Hallowell
ME
04347
Organization
Harlow Gallery/Kennebec Valley Art Association
Allison McKeen
2076223813
gro.yrellagwolrah@nosilla