Yellow Bird Chase-Family Fun DAYS
Date: August 14, 2021
Time: 10:00 AM - 11:00 AM
Location: Denmark Arts Center, Denmark
---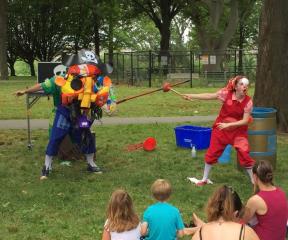 Denmark Arts Center (DAC) Family Fun DAYS will be held in Bicentennial Park across from the Arts Center. DAC will follow CDC guidelines for outdoor events AND are a Rain or Shine (Pavilion & Tent onsite). Family Fun SaturDAYS will be a Pay-What-You-Can this summer. Pre-registration is requested.
A clownish maintenance crew finds a magical yellow bird, and a mad chase begins. Racing over land, across the sea, and through the air – battling pirates, monsters, and terrible pop songs – how far will our heroes go? Take a leap into a world of imagination, where birds are magic and everyday folks find friendship and love. Join Liars & Believers on this adventure of masks, puppets, and gibberish.
Yellow Bird Chase is appropriate for the whole family and is fully accessible to Deaf and hard of hearing audiences. Join us for free puppetry workshops after the performance. Learn how anything you see can take on a life of its own!
Funded by grants from the Maine 200 Bicentennial Commission, Davis Family Foundation, Kenda C. & Anna Ham Charitable Foundation, and Town of Denmark-THANK YOU!