Call for Women Artists: Her Flag
---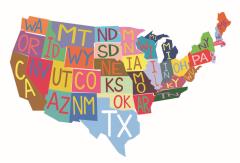 WE NEED AN ARTIST FROM ALL 36 STATES THAT GAVE WOMEN THE RIGHT TO VOTE.
DO YOU WANT TO BE ONE OF THEM?
We are seeking 36 female/self-identifying collaborators in 36 states to help with the creation of a printed flag to celebrate the anniversary of the ratification of the19th Amendment that gave women the right to vote. The participating artists will represent each of the 36 states that helped pass the 19th Amendment.
You need to be currently living in the state you are applying to represent. See the list of states below. You will need to be able to travel to the capital city of your state on a specific date to hand over your completed stripe and be a part of the public performance while your stripe is added to the flag. Selected artists will receive a $1,000 stipend.
The finished flag will be 18 feet by 26 feet. There will be 36 stripes, one to represent each state that ratified the 19th amendment. The selected 36 pieces of art will be sent to Her Flag in a digital format.
We will have all 36 separate stripes professional printed on commercial grade fabric ready for the assemble on the road. Each stripe will be sewn onto the star field and other stripes in each state by Marilyn Artus.
WHAT I WANT YOU TO BE THINKING ABOUT IF YOU CHOOSE TO APPLY.
This is a positive project. I would like you to celebrate this important anniversary in American history with your art making in a hopefullyway. It is important to me that a diversity of political beliefs are included in this experience. I am interested in things that unite us. I want to celebrate and educate with this project.
WHERE WILL THE FLAG BE EXHIBITED?
We are working on securing venues for the exhibition of the final artwork in 2020. If you have a suggestion of where this could be displayed, please share any potential leads with me. Indoor and outdoor locations are both possible. The most important part of Her Flag is the actual making of the flag and collaborating with the selected artists. Where it will be displayed will evolve along the journey.
Entry Deadline: 11/5/18
Days remaining to deadline: 102

REQUIREMENTS:

Media
Images - Minimum: 4, Maximum: 9
Audio - Minimum: 0, Maximum: 1
Video - Minimum: 0, Maximum: 1
Total Media - Minimum: 4, Maximum: 9