Call to Artists: Hallowell's Luthiers Exhibition & Musical Showcase
---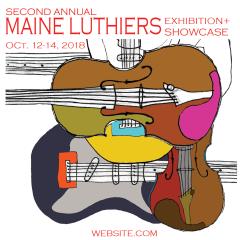 A call to Maine Luthiers!
The City of Hallowell, in partnership with The Harlow and Maine Crafts Association, invites all Maine luthiers to participate in an exhibition of luthiers' craft and musical celebration on the weekend of October 12-14, 2018.
We encourage state-wide participatiion for this event to celebrate Maine stringed-instrument makers in partnership with the local grassroots community of performing musicians. The 2018 program is expanding to include an instrument gallery exhibition, performances at various locations around Hallowell, as well as craft talks, demonstrations, and speakers. Luthiers will have the option of having their instruments played by local musicians at performances throughout the weekend.
Those interested in participating please contact Nate Rudy, Hallowell City Manager or visit our website to find more information.
Please contact us by August 17, 2018 if you would like to participate!