Closing Reception for "Lineation" by Chris Beneman
---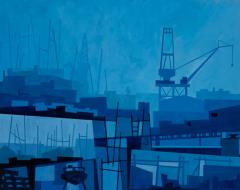 Join us for the closing reception of Chris Beneman's solo show "Lineation" at Vestibule 594 during the First Friday Art Walk from 5-8pm. This is your last chance to see the show on display for the public, so don't miss it!
Vestibule 594 is a small showcase gallery that displays local artists' work in bimonthly new shows. Open on First Fridays or by appointment only. Located on the ground floor next to Starbucks and across from Flea For All on Congress Street in Portland.
Lineation noun lin·e·a·tion \ˌli-nē-ˈā-shən\
the action of marking with lines
an arrangement of lines
In my printmaking work I create pieces based on architectural forms. These deconstructed urban landscapes teeter between order and disorder. In my paintings I combine and rearrange elements of the working waterfront, creating a kind of crazy quilt from the fishing shacks, pilings, buoys, rigging and boats.
Chris Beneman is a graduate of Bates College and has attended classes at Maine College of Art and Haystack Mountain School in Maine, The Art New England Workshops in Vermont and Ballinglen Arts Foundation in Ireland. Her work has been widely exhibited, most recently in the 25th anniversary exhibition of the Peregrine Press at the Lewis Gallery in Portland. Other recent exhibitions have been at the George Marshall Store in York and Greenhut Galleries and the Maine Jewish Museum in Portland. She has also been included in exhibitions at the Attleboro Arts Museum and South Shore Art Center in Massachusetts, The Center for Contemporary Printmaking, Norwalk, CT; The New Hampshire Institute of Art, Manchester, NH, Washington Printmakers, Washington, DC and the Center for Book Arts in NYC.
Ms. Beneman's work is in many public and private collections including the Portland Museum of Art, The New York Public Library, the Colby College Museum of Art, The Farnsworth Museum, Bowdoin College Museum of Art, University of New England and the New Britain (CT) Museum of Art. She is a member of the Peregrine Press and the Boston Printmakers.