Donut 2020
---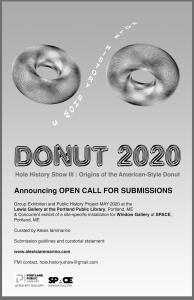 Announcing OPEN CALL FOR SUBMISSIONS
for Group Exhibition and Public History Project
DONUT 2020: Hole History III Origins of the American-style Donut
May 1st - May 25th
Opening Reception: May 1st- First Friday Art Walk
at the Lewis Gallery at the Portland Public Library, Portland, ME
&
concurrent exhibit of a site-specific installation in the Window GALLERY at SPACE, Portland, ME
Curated by Alexis Iammarino
This project began in 2014, as a personal inquiry into ways that my work as a community artist could more assertively combine my interests in interdisciplinary, collaborative research models and, in an idiomatic fashion, from the field of public history.
This open call for DONUT 2020: Hole History III marks the third iteration of this exhibition and will include selections from the 64 works of art, reproductions of memorabilia, and over 14 written submissions which include culinary history, poems, short fiction, oral history, and lecture transcriptions from the 2016 and 2018 rosters. The 2016 exhibition positioned each submission as a primary source documented as a response to the claim that the hole-in-the-donut was singularly invented by a 19th-century sea captain from Rockport, Maine.
In this particular moment, can false, misleading, or bombastic claims (of all kinds) prompt cultural and societal critique of how knowledge operates in a relational space between faith and fact? This curatorial project offers the conceptual terrain and an inclusive venue for discourse between the dynamics of belief and fact, as well as the implication/significance of American as an adjective.
All works will be documented and archived in the second edition of the exhibition catalogue, Hole History: Origins of the American-Style Donut.

I look forward to receiving entries from artists in all disciplines, writers, chefs, home cooks, architects and thinkers/makers of any ilk. Please feel free to share this with anyone you think may be interested. Thanks so much for your consideration and stay tuned for updates to the website and further DONUT 2020 Program details with partnering entities.
Hole Heartedly Yours, Alexis Iammarino
Filter Press Releases
Contact Information
Alexis Iammarino
Hole History Show
711 Main Street
Rockland
ME
04841
moc.liamg@wohs.yrotsih.eloh