Now Hiring: NEA Director of States, Regional, and Local Partnerships
---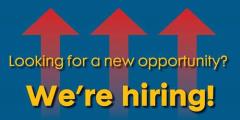 NEA Director of States, Regional, and Local Partnerships
Deadline to Apply: October 29, 2018
The National Endowment for the Arts is seeking to fill the position of Director of States, Regional, and Local Partnerships. The Director of States, Regional, and Local Partnerships will serve as the agency's nationally recognized expert and authority for the State/Regional/Locals (SAA/RAO/LAA) fields in discussions throughout the agency including collaborations with other divisions and discipline directors. Full project description and instructions to apply are available through the USA Jobs website. (Important note: Applicants are encouraged to use the USA Jobs resume template. However, if you do not use the template you must ensure your resume contains ALL required information which includes hours worked, starting and ending months and years, and if Federal employment (series, pay plan, and grade.) Learn more.
If you think that could be you, check out the job listing at @USAJOBS: https://go.usa.gov/xPNUV.
Deadline to apply: 10/29/18.
Filter Press Releases
Contact Information
Andi Mathis
400 7th Street SW
Washington D.C.
DC
20506
202-682-5430
vog.stra@asihtam
arts.gov