RFP for Facilitation Skills Training for NEFA Staff
---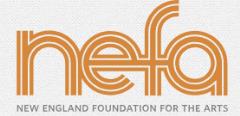 RFP for Facilitation Skills Training for NEFA Staff – Due December 14
The New England Foundation for the Arts seeks proposals from individuals or organizations to conduct a one-day workshop on meeting facilitation skills for approximately 25 staff members in February 2019.
This workshop is designed as a professional development and learning opportunity for staff, many of whom are responsible for planning and facilitating external and internal sessions around culturally sensitive topics and situations with a high degree of pressure around consensus building and decision making.
NEFA staff desire more knowledge and understanding of how to design and run efficient and productive meetings with care and compassion including positive and effective communication, guiding conversations, consensus building, managing challenging conversation, conflict or disagreement, and how and when to acknowledge external societal factors and pressures that may be brought into a session by participants.
The selected facilitator will work with members of NEFA's Staff Development and Training Working Group to design and plan the training.
Please review the attached RFP for additional context and details on scope, deliverables, and proposal requirements. You can also review the RFP on the NEFA website.
All proposals should be sent to Steven Fenton at sfenton@nefa.org by Friday, December 14.