The Velveteen Rabbit - fun for all ages Holiday production
---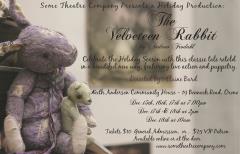 "Real isn't how you are made,' said the Skin Horse. 'It's a thing that happens to you. When a child loves you for a long, long time, not just to play with, but really loves you, then you become Real.'
In this heart-warming story, a must-see for the whole family, the combination of love, devotion, and a little bit of "nursery magic" transform a beloved sawdust-filled toy into a real rabbit. Some Theatre Company's Holiday production tells the timeless tale of the magic of childhood, and its ability to transcend reality with pure and uninhibited love. This production is told through not only live action, but with the beauty and thrilling skill of puppetry.
With a cast of 15, comprised of adults and children, this beautiful tale is suitable for all ages.
Some Theatre Company will be offering a unique opportunity at the 10am show, on Sunday 18th. This performance will be a, "Soft show," primarily geared towards children and adults with special needs, disabilities and autism, as well as small children who often can't sit still or be quiet for an extended period of time. This performance will be tailored so that parents do not have to feel the pressure of telling their child to be quiet, or to sit down in order to not disturb someone else. While children cannot run up and down the aisles, or on to the stage, it is ok for them to stand up, move around, and be vocal. We want to bring the joys of live theatre to those who may not feel they can otherwise attend.
# # #
Tickets for The Velveteen Rabbit are $10 General Admission, $25 VIP Patron of the Arts Package
The Velveteen Rabbit will be performed December 15–18, with performances Thursday, Friday and Saturday at 7pm, Saturday and Sunday at 2pm and Sunday at 10am.
The box office can be reached at 207-356-6501 Monday– Fridays from 10am -6pm and till two hours before performances. Tickets and additional information are available online at www.sometheatrecompany.com – We are a limited seating house.