Works in Watercolor by Randy Eckard
---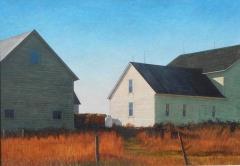 (Portland, ME) Richard Boyd Art Gallery anticipates reopening to the public on June 1st in phase two of Restarting Maine's Economy. If that date changes, Rick and I will still install the June exhibit Works in Watercolor by Randy Eckard a Solo Exhibition of Paintings to bring joy to our patrons and art lovers in the area.
Randy was raised in North Carolina and studied at the Ringling School of Art in Sarasota, Florida and the Haywood School of Craft in Clyde, North Carolina. A trained commercial and fine artist living in Blue Hill, Maine his career as a fine artist working exclusively with watercolors spans more than three decades.
Known for his use of light and shadow, with the subject of most of his paintings being light and how it defines and shapes the scene before him, Randy's watercolors capture the timeless beauty and charm of Maine's architecture and landscapes.
This year, for the second year in a row, Randy was selected by "STATE 23 MEDIA staff in collaboration with a jury panel of art experts" as one of Maine's most noteworthy artists for "Maine Home and Design Magazine's artmaine Annual Guide." Winning over 190 awards for his paintings in watercolor throughout New England and the Southeast, his work is widely collected and included in numerous private and corporate collections.
On June 2nd images of Randy's beautiful original watercolor paintings hanging in the gallery will be available for viewing on our Facebook page http://www.facebook.com/RichardBoydArtGallery . Images of his paintings will also be available for viewing on our website http://www.richardboydartgallery.com click on the Current Exhibit tab.
For more information about the exhibit contact Rick or me by phone at (207)-712-1097 and leave a message. We will return your call within the hour. If we don't see you at the gallery we hope images of these beautiful original watercolor paintings will bring a smile to your face and help calm you during these turbulent times. The exhibit will be up from June 2nd through June 29th, 2020.
Thank you for your support of art and artists in Maine. We will get through this and emerge stronger and more united. Take care and stay safe friends.
Look forward to seeing you at the gallery!
Pam Williamson and Rick Boyd
Filter Press Releases
Contact Information
Pamela Williamson
williamson955@aol.com
Portland
ME
04101
(207)-712-1097
moc.loa@559nosmailliw