Jeff Coffin Jazz Residency Initiative Capstone Concert
Date: November 20, 2019
Time: 07:00 PM - 09:00 PM
Location: LEURA HILL EASTMAN PERFORMING ARTS CENTER, Fryeburg
---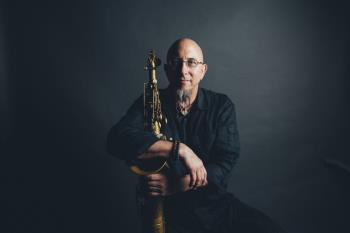 GRAMMY AWARD-WINNING JEFF COFFIN TO PERFORM AT THE LEURA HILL EASTMAN PERFORMING ARTS CENTER IN FRYEBURG
FRYEBURG – Jazz Residency Initiative presents the sixth annual Fryeburg Academy Jazz Residency Capstone Concert at the Leura Hill Eastman Performing Arts Center on Wednesday, November 20 at 7:00 pm. The concert will feature Grammy Award-winning saxophonist Jeff Coffin with Fryeburg Academy's Big Band, Chorus, and Vocal Jazz Ensemble. The concert will also include a professional set during which Mr. Coffin will be joined on stage by regional professionals Les Harris Jr., John Hunter, and Thomas Snow. Mr. Coffin will be leading an artist-in-residency experience for the Fryeburg Academy student musicians for three days prior to the concert. During the residency, he will be teaching masterclasses, and leading rehearsals, as well as providing instruction and feedback to student vocalists and instrumentalists.
Jeff Coffin earned his three Grammy Awards during his time playing with Bela Fleck and the Flecktones from 1997-2010. In July of 2008 Jeff began touring with Dave Matthews Band and has remained a member since officially joining the band in 2009. When not on the road with DMB, Coffin fronts his own groups, Jeff Coffin & the Mu'tet, and The Viridian Trio. He has released 15 solo CDs. Additionally, Jeff is a very well respected educator. He teaches at Vanderbilt University, is a mainstay at the Jazz Educators Network, has published multiple music education books, and delivers clinics globally. Jazz Residency Initiative (JRI) had the pleasure of coordinating a residency featuring Mr. Coffin in Brewer, Maine in 2016, and is thrilled to be bringing him to Fryeburg in 2019.
Tickets are $15 for adults, $10 for seniors (65+), and $5-Students (-18). For those interested in providing additional support for this program, benefactor tickets are available for $50. These tickets grant you backstage access for a pre-show meet-and-greet with Mr. Coffin, along with a CD for every two tickets purchased. You can purchase tickets ahead of time online at www.fryeburgacademy.org/pac or by calling the box office at 207-935-9232. Tickets will also be available at the door on the night of the show.
The 2019 Fryeburg Academy Jazz Residency is made possible by the generous support of gold level sponsors Hunting Dearborn Division, and Old Saco Inn, and silver level sponsors Chalmers Insurance Group, Hastings Malia P.A., Kezar Realty, and Spice & Grain, as well as, by grants from Ham Charitable Foundation and Maine Arts Commission.
Jazz Residency Initiative is a nonprofit dedicated to the development of aspiring jazz musicians by facilitating artists-in-residencies with master jazz musicians. To learn more about JRI, visit www.jazzresidencyinitiative.org. The Leura Hill Eastman Performing Arts Center is located at 18 Bradley Street in Fryeburg, Maine.