Julianne Garvey A Solo Exhibition of Paintings May 1-30 at Richard Boyd Art Gallery
Date: May 1, 2016 - May 30, 2016
Time: 10:00 AM - 05:00 PM
Location: Richard Boyd Art Gallery, Portland
---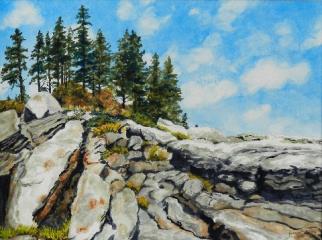 (Portland, ME) Richard Boyd Art Gallery is pleased to present a solo exhibition of paintings by Lewiston, ME artist Julianne Garvey on May 1 at 10 a.m. A multi-talented artist working with a variety of mediums, Julie moved to Maine in 1980. Her current portfolio of paintings include a selection of works in watercolor and mixed media depicting a variety of scenes inspired by the beauty of coastal and inland Maine. Julie's paintings capture her observation of daily life and natural surroundings, and vary from landscapes to seascapes, and figurative works.
The public is invited to meet Julie at a reception at Richard Boyd Art Gallery on Saturday, May 7 between the hours of 1 p.m. and 4 p.m. where she will be available to discuss her current series of paintings. The exhibit is open free of charge between 10 a.m. and 5 p.m. daily through May 30, 2016.
Richard Boyd Art Gallery is located on Peaks Island in Portland, Maine at the corner of Island Avenue and Epps Street in the first building on the right, on the first floor. For more information about the exhibit or reception please contact the gallery by phone at 207-712-1097, via email at info@richardboydartgallery.com or visit www.richardboydartgallery.com . For weekly news or updates please like the gallery on Facebook at www.facebook.com/RichardBoydArtGallery .
Copyright©2016 Richard Boyd Art Gallery All Rights Reserved.