Marking Coordinates: Works on Paper
Date: October 12, 2021
Location: Harmon's Market, Scarborough
---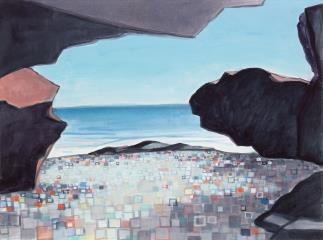 Harmon's Market is pleased to present an artist's book by Ann Conrad Stewart: Mapping the Cliff Walk, in a signed and numbered limited edition of 100, documents the full project of 66 oil paintings shown in October of 2020 and the summer of 2021. In conjunction with the launch of the book, the gallery will feature a new exhibition of works on paper: Marking Coordinates.
Marking Coordinates: Works on Paper includes 72 drawings that served as reference points for the paintings. Rendered in water-based crayons, shellac inks, liquid acrylic, gouache, pencil, colored pencils, and oil-based printing ink, their production took place along the Cliff Walk and in the artist's small studio in Scarborough, Maine; their true subject is exploration itself. Stewart methodically revisits the daily horizon line, variations of sea and sky, color and light associated with different times of day and seasons of the year.
The works on paper and book are presented as a coda to the multi-year project; these individual pieces stand as data points to Stewart's analysis of the sense of a specific place.
Marking Coordinates will be on view from October 6 through November 27, 2021.