Museum L-A's Chills at the Mill
Date: October 19, 2018
Time: 06:00 PM - 08:00 PM
Location: Baxter Brewing Co., Lewiston
---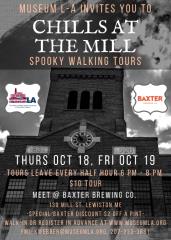 Join Museum L-A for "Chills at the Mill" on Thursday, October 18 and Friday, October 19, an unforgettable behind-the-scenes spooky tour of the Bates Mill! We'll travel into some forgotten parts of the building and share some stories of the more gruesome and creepy history about the mills that you have probably never heard.

Tours will last approximately 45 minutes and will start and end at Baxter Brewing Co, 130 Mill St. There is parking in the Lincoln Street parking garage, free after 5 pm. Tours are $10 per person and include $2 off the cost of a pint of Baxter beer (21+).

On each night, the tours leave every half hour and only have room for 20 people so make sure you reserve your time slot ahead of time by calling Museum L-A! You can also pay when you arrive. Tours leave every half hour and have a maximum capacity of 20 people.