Museum L-A's One of a Kind "Treasures & Trinkets" Sale
Date: November 11, 2018
Time: 10:00 AM - 03:00 PM
Location: Bates Mill Atrium, Lewiston
---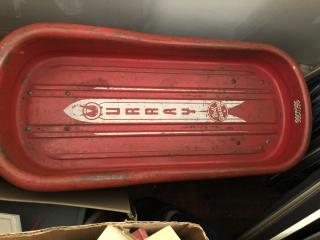 Museum L-A is excited to invite you to a one of kind "Treasures and Trinkets" Sale to be held on November 11, 2018, from 10:00 am – 3:00 pm in the Bates Mill Atrium, Lewiston, Maine. The sale will help Museum L-A make room for its collections artifacts, benefit Museum programming, education, collections, and preservation efforts, as well as give our visitors the opportunity to do some unique Christmas gift shopping! Although the Museum will be pulling together some one of a kind items for the sale, no artifacts from the permanent museum collections will be included in the sale.
The sale will include an array of items from exhibit and display materials, posters and prints, antique toys, furniture, textile manufacturing components from the mills, and many other hidden gems. Lucky visitors might be able to take home an antique Murray red wagon, an antique wooden crate advertising Coca-Cola and Sun Disk, framed art, Victorian furniture, or heritage Fenton Art Glass. A sure to be sought after item will be the uniquely crafted wood and iron hall coat racks that were originally located in St. Peter's School before its demolition. The racks come with multiple hooks and brackets and are available in their original lengths or cut to size. During the event, you will be able to peruse our vast number of interesting offerings to find the perfect treasure.
There is something for everyone at this sale! Artists will find unique and curious objects that could be included in or inspire freshly imagined creations. Someone setting up an office or workspace could pick up some distinctive decorations with a historic flair to give your space a unique conversation starter. The general public will be able to find the perfect gift for their friends and family that they wouldn't be able to find anywhere else.