Opening Reception for Voting Daughters
Date: March 20, 2020
Time: 05:30 PM - 08:00 PM
Location: The Foundry Art Centre, Saint Charles
---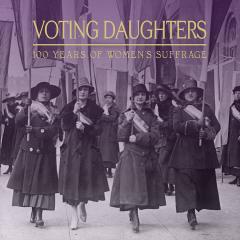 Friday, March 20, 5:30 - 8:00pm | FREE
THE EXHIBITION
Voting Daughters is an exhibition aimed at celebrating the 100th anniversary of the ratification of the 19th Amendment. This exhibition calls on artists, regardless of gender identity, to comment on the ways women's voices affect our contemporary landscape. All media and expressions are welcome for submission.
This exhibition is Free and Open to the Public. During the Opening Reception the Juror will be handing out three major awards. Two Juror's Choice awards of $150 each and the best in show receives a "Going Solo" award. The "Going Solo" award allows the artist to be given a solo exhibition in our Gallery III space. The "Going Solo" winner from "Colorless", Tanner Martine, will be showcasing his delicate and meditative works in ceramics. In our Ameristar Gallery Sue Rakers will be having her Emerging Artist show.
This exhibition is juried by Judith Mayer an American Illustration and design artist, born and raised in the midwest by her immigrant parents. Mayer has a BFA from Ball State University and teaches traditional calligraphy at the Lillstreet Art Center in Chicago. Her work has been published in over 35 books and magazines and her work is influenced by her years as a graphic designer and her love of mid-century modern and pop art.
The gallery talks will be at 5:30pm awards will be given at 7pm.
The Foundry Art Centre is a dynamic, interactive center dedicated to the creation & presentation of contemporary visual and performing arts. Our mission is to connect people with the arts through exhibitions, studio artists, performances, & education. Featuring a state-of-the-art gallery, the Foundry hosts national and international juried fine art exhibitions and curated traveling exhibitions.
Filter Events
Venue
The Foundry Art Centre
520 N Main Center
Saint Charles
ME
63301
Organization
Foundry Art Centre
Kaitlin Wilfing
6362550270
gro.ertnectrayrdnuof@snoitibihxe