Schoodic Arts for All: Snarky Sisterz and Friends
Date: August 3, 2019
Time: 07:00 PM - 09:00 PM
Location: Hammond Hall, Winter Harbor
---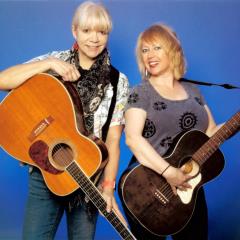 Diana Quinn and Lisa Ann Wright are the Snarky Sisterz, a light hearted and dynamic duo that performs an eclectic mix of clever originals and covers, from bluegrass to The Beatles, 20s standards to punk, and on to roots rock, Americana, blues, 60s girl group songs, and even a smidgeon of jazz.
Diana is a veteran DC musician, who is clasically trained but is also a rockin' guitarist, band leader, songwriter, and winner of an impressive number of Washington Area Music Awards (WAMMIES), including several for Album of the Year.
Lisa, a singer and professional actor, won a WAMMIE for her solo album "Sweet Bye & Bye" and has also won several songwriting awards.
For this concert, the Snarky Sisterz will introduce you to some of their talented friends, including Maine Country Hall of Fame member Dana Flood on guitar and pedal steel and Joe Wainer on drums.