Studio 408 Hosts Masterclass with Algerian Theater Makers!
Date: September 25, 2016
Time: 01:00 PM - 03:00 PM
Location: Studio 408, South Portland
---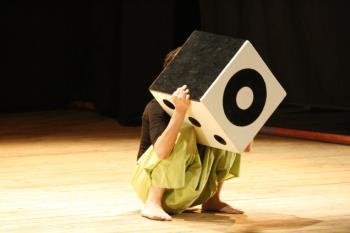 Studio 408, a new center for dance and performance experimentation, presents a fantastic opportunity for local actors, dancers and performers on Sunday, September 25. Istijmam, a collective of Algerian theater makers, offers a masterclass for students and professionals alike. Visiting Maine during their first ever tour of the US, the company shares theater practices indigenous to Algeria during this one-time-only workshop in South Portland.
"Theater in Algeria is in society, and society is in the theater," says actress Rihab Alloula. This is no abstract statement for Istijmam's collective of theater makers who stage their works in cinemas and courtyards, playgrounds and theaters. The aim: to repopulate the halqa, Algeria's town squares, and renew traditions of improvisation and interaction after two decades of sectarian violence and authoritarian rule emptied and silenced them.
In their practice and performance, the actors of Istijmam sing, play instruments, and use dynamic gesture and movement to animate theatrical text. Their workshops are just as lively, utilizing theater games and movement improvisation to generate new ideas and explore audience participation.
Istijmam's workshop is produced as part of Center Stage, a public diplomacy initiative of the U.S. Department of State's Bureau of Educational and Cultural Affairs, administered by the New England Foundation for the Arts and regional arts organizations.
Workshop will be held at Studio 408 (408 Broadway South Portland) from 1 to 3 pm on Sunday, September 25. Space is limited to 25 students based on first come first serve basis. $16 for a single workshop or $70 for 5 Moving Target Portland masterclasses. Visit www.studio408dance.com to learn more.