USM Youth Ensembles Spring Instrumental Concert
Date: April 8, 2019
Time: 07:00 PM - 09:00 PM
Location: Merrill Auditorium, Portland
---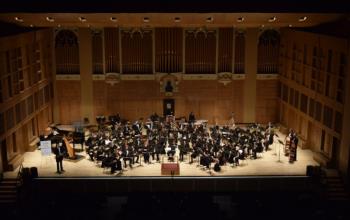 The USM Youth Ensembles perform their annual spring concert:
• Portland Youth Symphony Orchestra, Robert Lehmann, conductor
• Portland Youth Wind Ensemble, Jacqueline Townsend, conductor
• Portland Young People's String Consort, Hanna Flewelling, conductor
• Portland Youth Junior Orchestra, Ferdinand Liva, conductor
Suggested donation, $8 adults, $5 students, seniors, USM employees and alumni at the door, or purchase tickets online at www.usm.maine.edu/music/boxoffice, or by phone at 207-780-5555.
Sponsored by Macy's
Those needing special accommodations to participate fully in this program, contact Lori Arsenault, (207) 780-5142, loria@maine.edu. Hearing impaired: call USM's telex / TDD number (207) 780-5646.
Filter Events
Venue
Merrill Auditorium
20 Myrtle Street
Portland
ME
Organization
Macy's
USM Music Box Office
2077805555
ude.eniam@airol