UUCB Concerts for a Cause: LIPBONE REDDING
Date: September 9, 2017
Time: 07:30 PM - 09:30 PM
Location: Unitarian Universalist Church of Brunswick, Brunswick
---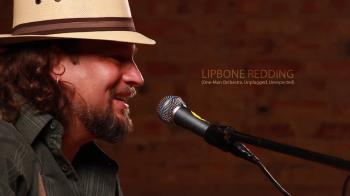 The UUCB Concerts for a Cause series presents the Lipbone Redding on Saturday, September 9, 2017 at the Unitarian Universalist Church of Brunswick, 1 Middle Street, Brunswick.
Storyteller, songwriter, guitarist and voice-instrumentalist, Lipbone Redding revs up a party with his original songs that effervesce with New Orleans jazz, swing, soul and funk. He is most noted for his ability to vocally imitate trombones, trumpets, bass and percussion and incorporate them into an engaging, entertaining show for all ages and musical tastes. Soulful and rhythmic, with a distinctive pick-less picking style, Lipbone digs deeply into his surprising musical roots. His unique style is informed by everything from 20s Jazz, Ska, Latin, Indian Classical, 70s Soul, and even Disco.
Lawrence "Lipbone" Redding has spent the last 20 years traveling the world collecting and recounting exotic tales through music and performance art. Despite humble beginnings as a New York City subway singer, Lipbone has released 8 albums and over 20 live recordings and now performs in festivals, theaters and concert halls across America and Europe. He also teaches workshops and collaborates with other musicians, dancers, and performance artists.
A one-man orchestra with no electronic effects, his natural human sounds of throat singing (overtone singing), bass and beat-boxing, and his astonishingly realistic lip-tromboning are a must-experience event—as he weaves his stories with funky rhythms, catchy melodies, brash humor, soulful singing, and inventive guitar playing. Listen to a sample of his unique style here: https://vimeo.com/191295166
At a typical concert, the listener may experience everything from Himalayan style throat singing, catchy pop hooks, rapid-fire prose with groove accompaniment or pin-drop moments as a tale unfolds. Lipbone shows an astounding affinity for his audience, at times encouraging them to sing along, make noise and even be a part of the show. And don't plan on sitting for too long. Lipbone has a way of making it impossible to resist the urge to start spontaneously dancing.
Lipbone Redding will put on the funkiest, grooviest, get-up-and-danciest concert you may have ever seen, and he'll do it with some incredible songs, some great guitar work, and the most incredible one-man brass section anyone has ever heard.
Proceeds from the Concerts for a Cause series raises money for church programming and local charities.
Filter Events
Venue
Unitarian Universalist Church of Brunswick
1 Middle Street
Brunswick
ME
04011
Organization
Unitarian Universalist Church of Brunswick
Shirley Bernier
207-729-8515
ten.iwg@nurbuu
www.uubrunswick.org