Works in Watercolor by Randy Eckard a Solo Exhibition of Paintings
Date: June 1, 2019 - June 29, 2019
Time: 10:00 AM
Location: Richard Boyd Art Gallery, Portland
---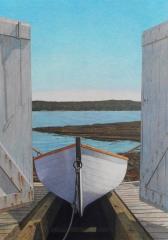 Raised in North Carolina, Randy studied at the Ringling School of Art in Sarasota, Florida and the Haywood School of Craft in Clyde, North Carolina. A trained commercial and fine artist living in Blue Hill, Maine his career as a fine artist working exclusively with watercolors spans more than three decades.
Recently selected as one of Maine's most collectible artists for 2019 in 'Maine Home and Design Magazine's artmaine 2019 Annual Guide' Randy is known for his use of light and shadow, with the subject of most of his paintings being light and how it defines and shapes the scene before him.
Winning over 190 awards for his paintings in watercolor throughout New England and the Southeast, his work is widely collected and included in numerous private and corporate collections. The exhibit is open free of charge between the hours of 10:00 a.m. and 5:00 p.m. daily through June 29, 2019
For more information about the exhibit or reception contact Richard Boyd Art Gallery by phone at (207)-712-1097, via email at info@richartdboydartgallery.com or visit the gallery's website at http://www.richardboydartgallery.com . Like us on Facebook at http://www.facebook.com/RichardBoydArtGallery . Follow us on Instagram at #richardboydartgallery .
Copyright(C)2019 Richard Boyd Art Gallery All Rights Reserved.