$5,000 Grant Award: Clarence John Laughlin Award
---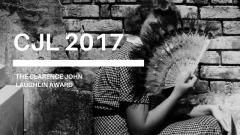 New Orleans Photo Alliance Accepting Submissions
for $5,000 Clarence John Laughlin Award
New Orleans, LA (September 2, 2017) The New Orleans Photo Alliance is accepting submissions for the 8 annual Clarence John Laughlin Award through September 20, 2017. The award grants one $5,000 prize to a fine art photographer whose work exhibits sustained artistic excellence and creative vision.
The New Orleans Photo Alliance (NOPA) instituted the Clarence John Laughlin Award in 2010 to support the work of photographers who use the medium as a means of creative expression. It honors the life and work of Clarence John Laughlin (1905-1985), a New Orleans photographer best known for his surrealist images of the American South. Finalists will be announced on October 25 and the winner will be announced on December 1, 2017.
The award is open to emerging and established photographers who reside in the U.S. The online application process requires a portfolio of 10-20 photographs, a written statement, a bio or CV, and a $25 application fee. To learn more about the award and to apply, please visit the Grant Awards page on our website: www.neworleansphotoalliance.org.
The 2017 Clarence John Laughlin Award will be juried by Paula Tognarelli, Executive Director and Curator of the Griffin Museum of Photography in Winchester, MA. The Griffin Museum is a nonprofit photography museum whose mission is to promote an appreciation of photographic art and a broader understanding of its visual, emotional, and social impact. The museum houses three galleries and maintains five satellite gallery spaces and several virtual online galleries. To learn more about the Griffin Museum, please visit: http://griffinmuseum.org/.
The award recipient will receive a $5,000 cash award and an exhibition in the NOPA Gallery at 1111 St. Mary Street in New Orleans in Summer 2018. Past award winners include David Emitt Adams, Adam Davies, Keliy Anderson-Staley, Walker Pickering, Lee Deigaard, Joni Sternbach, and Charles Grogg.
The New Orleans Photo Alliance is an artist-run 501(c)3 nonprofit organization comprised of a diverse group of photographers and enthusiasts. The mission of the organization is to encourage the understanding and appreciation of photography through exhibitions, artist opportunities and educational programming. The Alliance strives to be a hub of cultural stimulus fostering economic and artistic growth, while preserving the rich photographic culture of New Orleans and the South.