'A Walk in the Woods' on Exhibit May 2 - 30 at Richard Boyd Art Gallery
---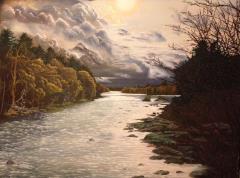 (Portland, ME) Richard Boyd Art Gallery opens an exhibit of American landscape paintings on Tuesday, May 2 at 10:00 a.m. Visual arts depicting landscapes have been around for centuries and remain one of the most collected.
'A Walk in the Woods' features a selection of original works of visual art by artists' Austin Stilphen - paintings in oil; Bob Santandrea - images in pastel; and Paul J. Noël - paintings in oil and watercolor.
Representational landscape art can depict an artist's interpretation of a specific scene or a detailed rendering of a landscape before them. Interest in specific genres of art change over time, but visual arts depicting landscapes continue to flourish as artists create works that document natural areas untouched by modernization in hopes of reawakening our love of nature.
The exhibit is on view free of charge between the hours of 10:00 a.m. and 5:00 p.m. daily through May 30, 2017. The public is invited to meet artists Austin Stilphen and Paul J. Noël at a reception at Richard Boyd Art Gallery on Saturday, May 6 between the hours of 12:00 noon and 3:00 p.m.
About the Artists
Austin Stilphen is a gifted landscapist and art student whose paintings in oil depict his interpretation of rural American landscapes untouched by modernization. Stilphen's representational paintings depict the beauty of nature and have extraordinary detail and luminism. His use of light and tight brushstrokes enhances the scene making it more realistic to the viewer.
Austin has the same vision as many landscape artists before him, to reawaken our love of nature. Inspired by 19th century Hudson River School artists, Stilphen strives to emulate not copy those painters that came before him and shares the same desire to preserve areas of natural beauty. Austin says, "I create these paintings in hopes people will understand and appreciate what we have on this planet. When we wake up tomorrow it could all just vanish."
Bob Santandrea is a semi-retired patent attorney and chemist by training. His paintings are a means of self-expression and a welcome departure from his day job. For many years his primary artistic interests were the human form and portraiture. Bob became more interested in landscapes and re-discovered his love of pastels after moving to Corning, NY. He is drawn to the colors and spontaneity that the medium allows.
Bob lays down an under painting in watercolor which adds a degree of luminosity to his work. The different effects provided by the softness and brilliance of pastel color mixed with other media allow him to take a more impressionistic approach to his work. Weather permitting Santandrea prefers the challenges of working "en plein air" to capture the natural colors and light of his surroundings.
Paul J. Noël 's traditional style landscape paintings in oil and watercolor are inspired by scenic landscapes near his home in Wells, Maine. Paul's paintings reflect his interpretation of nature and depict a range of scenes from local wildlife, to picturesque rural settings. His detailed paintings give the viewer a sense of place and invite them in for a closer look.
Paul is a member of The Newburyport Art Association and the Copley Society of Boston, and recently retired from a forty year career as an Interior Designer with a client list spanning the United States.
About the Gallery
Richard Boyd Art Gallery is an owner operated fine arts gallery located on Peaks Island at the corner of Island Avenue and Epps Street, in the first building on the right, on the first floor. Monthly exhibits feature original works of visual art created by artists with a connection to the state of Maine.
During the months of April through October the gallery is open between the hours of 10:00 a.m. and 5:00 p.m. daily. From November through the end of March the gallery is open between the hours of 10:00 a.m. and 3:00 p.m. every Friday, Saturday and Sunday. Additional days and times can be scheduled by appointment.
For more information about the reception or exhibit please contact Richard Boyd Art Gallery by phone at 207-712-1097, via email at info@richardboydartgallery.com or visit http://www.richardboydartgallery.com . Like the gallery on Facebook at http://www.facebook.com/RichardBoydArtGallery .
Copyright©2017 Richard Boyd Art Gallery All Rights Reserved.