"One Journey, Many Roads," a Portland concert and Pihcintu CD release celebration
---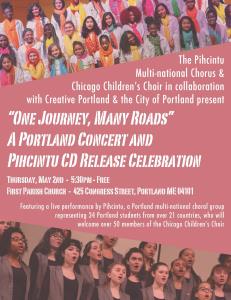 The Pihcintu Multi-national Chorus & Chicago Children's Choir in collaboration with
Creative Portland & the City of Portland are proud to present
"One Journey, Many Roads,"
a Portland concert andPihcintu CD release celebration
On Thursday, May 2, the Pihcintu Multi-national Chorus will host a concert and CD release celebration at First Parish Church, 425 Congress Street, Portland, ME 04101, at 5:30pm. The free event, "One Journey, Many Roads," will feature a live performance by Pihcintu, a multicultural choral group, founded and directed by award-winning Portland musician and songwriter, Con Fullam, representing 34 Portland students from over 21 countries, who will welcome over 50 members of the Chicago Children's Choir (CCC) at First Parish Church. This event is open to the public.
Welcoming students from the "windy city" furthers Pihcintu's collective mission to promote sisterhood and brotherhood among Americans in challenging times of cultural acceptance and tolerance. "The power of music and building relationships through the arts is at the heart of Creative Portland's mission, and Con Fullam's work with Pihcintu is an extraordinary gift to Portland," declares Dinah Minot, Executive Director, Creative Portland. A photo opportunity with all 86 singers from Pihcintu and CCC will take place on the front steps of City Hall with Mayor Ethan Strimling immediately before the concert at 5pm.
Pihcintu, a Passamaquoddy word meaning "when she sings, her voice carries far," welcomes immigrant children from around the globe, many of whom have experienced devastating realities. Portland, an ever-expanding international resettlement community, is fertile ground for bringing together children from diverse backgrounds to sing as one. Founder Con Fullam combined his passion for music with a deep concern for the effect of world issues on children - creating the chorus in 2005 with the help of countless supporting souls from all walks of life. This unique chorus of young women from Cambodia, China, Congo, El Salvador, Egypt, Kazakhstan, Kenya, Lebanon, Saudi Arabia, Somalia, Sudan, Uganda, Viet Nam, British West Indies, and Zambia, along with children whose families have been here for generations, have formed a powerful and permanent bond. Pihcintu has performed at the United Nations, John F. Kennedy Center for the Performing Arts, the National Cathedral, and have been featured on NBC's The Today Show. The chorus released its first album, "Music for the World," in September 2011.
Chicago Children's Choir (CCC) is the nation's preeminent youth choral organization, serving 5,000 students across the city of Chicago. Founded in Hyde Park in direct response to the Civil Rights Movement in 1956, CCC has grown from one choir into a vast network of in-school and after-school programs driven by one mission: to inspire and change lives through music. Since its founding, CCC has focused on building programs that reflect the racial and economic diversity of Chicago. This performance will feature the Bridging America Tour ensemble of the Hyde Park Neighborhood Choir, under conductor Mollie Stone and Stephanie Gregoire. Members range in age from 8-18 and rehearse twice weekly. Select singers have recently performed in Turandot and La bohème at Lyric Opera of Chicago and Bernstein's MASS with
the Chicago Symphony Orchestra at Ravinia Festival. Members of the Hyde Park Neighborhood
Choir have traveled to Michigan, Santa Fe, Florida and Amherst.
Creative Portland's mission is to support the creative economy through the arts by providing essential resources, by fostering partnerships, and by promoting Portland's artistic talents and cultural assets. As the official nonprofit arts agency, we support economic development efforts by strengthening and stimulating our workforce, creative industries, and enterprises.
CONTACT INFO
The Pihcintu Multicultural Chorus Creative Portland
Con Fullam, Founder & Director Dinah Minot, Executive Director cfullam@maine.rr.com dinah@creativeportland.com
(207) 370-4784