Acclaimed Bass-Baritone Ian Pomerantz Booking New England Performances
---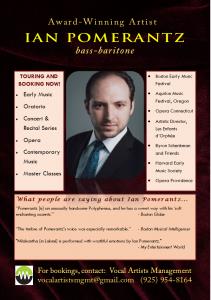 Acclaimed Bass-Baritone Ian Pomerantz Booking New England Performances
Vocal Artists Management is delighted to announce that acclaimed bass-baritone (and Boston resident) Ian Pomerantz is currently booking performances from now, through 2022.
Mr. Pomerantz would welcome a collaboration with you. He excels in early music, symphonic repertoire, contemporary music, oratorio, opera, and recital.
In addition, Mr. Pomerantz is available to give master classes.