Acclaimed organist to perform in Lewiston
---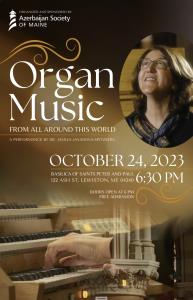 Acclaimed organist to perform in Lewiston
The Azerbaijan Society of Maine presents "Organ Music From All Around This World: A Performance by Dr. Jamila Javadova-Spitzberg" on Tuesday, October 24, at the World Basilica of Saints Peter And Paul in Lewiston. Admission is free, and the concert begins at 6:30 p.m. Doors open at 6 p.m.
Originally from Baku, Azerbaijan, Dr. Jamila Javadova-Spitzberg is an internationally performing organist, keyboardist, and educator. Her concert venues include the United States, countries of the former USSR, and Western Europe, including the Netherlands, Germany, France, Denmark, the Czech Republic, and England. In 2018, she performed at the Washington National Cathedral. Dr. Javadova-Spitzberg is an Assistant Professor at the University of Texas at Arlington (UTA) and principal organist at the First United Methodist Church in Arlington, Texas.
"We are thrilled to offer the beautiful music of Dr. Javadova-Spitzberg to the people of Maine at no charge as part of our mission to promote cross-cultural exchange among all Maine residents and celebrate the diversity of our community," said Tarlan Ahmadov, president of the Azerbaijan Society of Maine.
Dr. Javadova-Spitzberg founded the Azerbaijan-American Music Foundation, a non-profit organization dedicated to building "classical music bridges" between her native country and the USA.
The Azerbaijan Society of Maine, founded in 2019, promotes cross-cultural exchange among all Maine residents through concerts, devotion services, and other events; celebrates the diversity of the community and encourages inclusivity; fosters the integration of new Mainers through individual and group support; strives to build the resilience of the community through educational programs; and builds awareness of services and programs that help improve the health and well-being of all Mainers. Learn more at www.azemaine.com
Filter Press Releases
Contact Information
Tarlan Ahmadov, President
Basilica of Saints Peter and Paul
Lewiston
ME
04240
moc.liamg@eniamfoyteicosireza