Art In The Capitol: Showcasing Maine Veteran Artists
---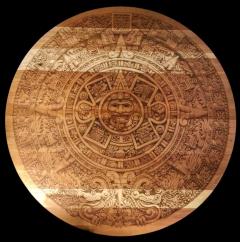 Art In The Capitol: Showcasing Maine Veteran Artists
Exhibition concludes with a veteran's celebration on November 30, 2018
AUGUSTA, MAINE--Artwork by Maine veterans is proudly on display in a free, public exhibition that runs through November throughout the state capitol complex. Approximately 40 art works by 39 artists, a majority of which are hanging in the Burton M. Cross building, are presented by the Maine Arts Commission in partnership with the VA Maine Healthcare Systems of Togus.
Visitors, state employees, and legislators are encouraged to view the Veterans Art in the Capitol exhibition during normal building hours. Each piece of art is accompanied by an artist statement that includes quotes and stories about how art plays a key role in the quality of life for many Maine veterans.
"I feel like my art brings out a sense of therapeutic calming for me. I love being creative and coming up with new pieces that express who I am," Melissa Chason writes on one wall label.
"Art is vital to my healing and growth. Creating give me joy and affirms my life," writes Matt Hodges.
"The creative arts are important to a veteran's care," said Courtney Oliver, a recreational therapist at Togus. "The goal is to promote lifelong health and well-being through regular participation in meaningful leisure pursuits." Additionally, the Togus facility provides a variety of outpatient and adaptive therapy programs for Maine's veteran population including visual arts, poetry and performance.
In addition to honoring the Veterans in the Arts and Humanities Appreciation Day, designated by the Maine state legislature as November 1 every year, the Maine Arts Commission is hosting a special celebration for veterans on November 30, 2018, the final day of the exhibition, from 1 p.m. to 3 p.m. at the Maine State House in the Hall of Flags. This event is also free and open to the public.
The VA Maine Healthcare Systems also encourages supporting veterans by purchasing and displaying their art. If interested in buying artwork, contact Courtney Oliver at Courtney.Oliver@va.gov.
For more information about the Veterans' Art Exhibition or the Art in the Capitol Program, contact Julie Horn at julie.horn@maine.gov or 287-2713. The Art in the Capitol program is administered by the Maine Arts Commission and is designed to expand accessibility for Maine artists working in state on Maine-based themes.
To learn more about the Art in the Capitol program visit www.MaineArts.com , and see what's happening on our social media sites, Facebook, Twitter, and Instagram @MaineArts.
The Maine Arts Commission supports artists, art organizations, educators, policy makers, and community developers in advancing the arts in Maine. For more than 50 years the Commission has encouraged and stimulated public interest and participation in the cultural heritage and cultural programs of our state; has worked to expand the state's cultural resources; and encouraged and assisted freedom of artistic expression for the well-being of the arts, to meet the needs and aspirations of persons in all parts of the state. Additional information is available at mainearts.com.
Filter Press Releases
Contact Information
Ryan Leighton
193 State Street
SHS 25
Augusta
ME
04333
207-287-2726
vog.eniam@nothgiel.j.nayr