Art In the Capitol: Showcasing Maine Veteran Artists
---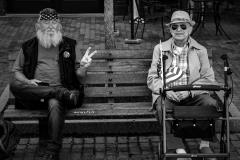 Art In The Capitol
Showcasing Maine Veteran Artists
Presented by the Maine Arts Commission and The VA Maine Healthcare Systems-Togus
Sept. 10 - Nov. 30, 2019
The Maine Arts Commission is proud to present an exhibition of Maine veteran's artwork in partnership with The VA Maine Healthcare Systems-Togus. The artwork on display were created by veteran Maine artists, and the majority of the thirty-nine pieces can be viewed throughout the Capitol Complex, hanging predominantly in the Burton M. Cross Building.
The Togus facility provides a variety of outpatient and adaptive therapy programs for Maine's Veteran population including visual arts, poetry and performance. This therapy is individualized, incorporating a veteran's past, present and future interests and lifestyle. Weaving the concept of healthy living into treatment ensures improved functioning, enhanced independence and successful involvement in all aspects of life. The goal is to promote lifelong health and well-being through regular participation in meaningful leisure pursuits, regardless of disability. In 2016 legislation was passed designating every November 1st as Veterans in the Arts and Humanities Appreciation Day in Maine.
This exhibit serves to recognize Veteran's service, showcase their art and encourage them to pursue their passion. We hope every veteran feels he or she has a place to promote their art, no matter their skill level or their passion. Please take time to read the wall labels accompanying the work to learn more about these talented individuals, including quotes about how art plays a key role in their health and quality of life. Additionally there will be a Veteran Recognition Ceremony & Art Show on November 8th from 9 a.m. to 11 a.m. in the Hall of Flags.
The program asks that you show your support for those who have served by purchasing and displaying veteran artworks.
VIEW THE VETERAN ART SHOWCASING AT THE ONLINE GALLERY
If interested in buying the art, please contact Julie Horn at julie.horn@maine.gov | Click HERE for a complete list of the artists and works on exhibit.
You can also like them on Facebook: VA Maine Healthcare System
For more information on the U.S. Department of Veterans Affairs, please visit: www.va.gov
For more information on the Maine Arts Commission, please visit: mainearts.com
Filter Press Releases
Contact Information
Julie Horn
193 State Street
SHS 25
Augusta
ME
04333
207-287-2726
vog.eniam@nothgiel.j.nayr