Art Walk LA Celebrates Pride and Community
---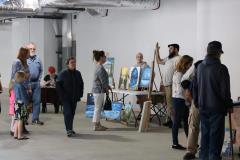 June Art Walk LA Celebrates Pride and Community
Lewiston, Maine, June 11, 2019 - LA Arts and the Art Walk LA Committee present a celebration of Pride Month and community at the upcoming Art Walk LA, happening in downtown Lewiston and Auburn on Friday, June 28 from 5-8 pm.
This event turns the downtown into a bustling arts district on the final Friday of each month from May through October. Among the highlights this month:
In the LA Arts Gallery - youth from Outright LA commemorate the June 28, 1969 start of the Stonewall Riots with a show of artworks inspired by this catalyst for the gay rights movement.

In the LA Arts Downstage - Free film screening of Breaking the Silence: Stories from Oregon's LGBTQ Veterans and Service Members. Show time 7 pm.

At Dufresne Plaza, 72 Lisbon St., Lewiston - live music by Sylvain's Acadian Aces 5:30-7:30 pm. Henna hand painting, corn hole and other family games.

At Festival Plaza, 112 Main St., Auburn - Fun Run Band plays "kindie rock" 5:30-7:30 pm.
Art Walk LA welcomes the following new venues to the lively mix of more than two dozen art and performance spaces along the route:
Baraka Store, 234 Lisbon St - artist: Alexandra Hood

Mogadishu Business Center, 240 Lisbon St, - artist to be announced

Hope Halal, 253 Lisbon St., - artist: Melanie Therrien
For a map and full list of venues and artists visit www.laarts.org/artwalk/
LA Arts presents Art Walk LA with gratitude for its numerous community partners including Platinum sponsors City of Lewiston, Berman & Simmons, Grand Rounds, the Harward Center for Public Partnerships at Bates College, and Sun Journal; Gold sponsors Baxter Brewing Co. and Liberty Mutual Insurance; Silver sponsors Austin Associates, Community Credit Union; Hardy, Wolf & Downing; Leary & Detroy; Linnell, Choate & Webber LLP; Statefarm; Rainbow Bicycles; Bronze sponsors Champoux Insurance Agency, City of Auburn, Law Offices of Joe Bornstein, Mechanics Savings Bank, Norway Savings Bank, Optometric Associates, Sonder & Dram, Twin City Financial Group; and In-Kind sponsors Marquis Signs and Panera Bread. Artists, artisans, and performers and volunteers are encouraged to participate by registering at http://www.laarts.org/artwalk/register/.
Since 1973, LA Arts, the arts agency for the cities of Lewiston and Auburn Maine, has pursued a mission to engage and inspire a vibrant community through arts and culture. The agency works with governments, businesses, schools and local arts and cultural organizations to create opportunities for community members across the generations to experience, learn, and participate in the arts. L/A Arts organizes arts programs and initiatives, supports the work of local artists and arts organizations, and highlights the essential role the arts play in shaping an economically vital, socially integrated, and forward-looking future for its community. Learn more at www.laarts.org.
Enc. images:
Art Walk LA May 31, 2019
Sylvain's Acadian Aces