Art in the Capitol: Woven Works of the Universe by Sarah Haskell
---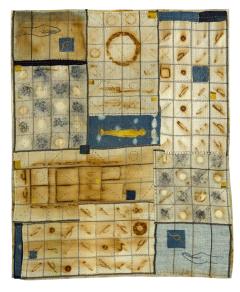 Art in the Capitol: Woven Works of the Universe by Sarah Haskell
Currently on display until December 31, 2022
AUGUSTA, MAINE --For artist Sarah Haskell, beauty lies in the imperfection of Earthly things.
Using threads and linen, paper, or cotton with botanical dyes from plants and mineral, she weaves, embroiders, and crochets her works of art. These Earthly works and textiles are on display as a free exhibit, open to the public from 8:00 a.m. - 5:00 p.m. Monday through Friday, in the Maine State Capitol Complex through December 31, 2022.
Haskell's 13-piece, one person exhibition explores the workings of the Universe, the natural world, and the human journey. Her creative process involves subjecting handwoven linens to rust dyeing, weathering, bleach, and compost dyeing. This transformation allows the artist to witness the process of metamorphosis, whichchallenges one's attachment to what was once deemed precious.
"For the past ten years the Buddhist concept of impermanence has been at the core of my work, exploring the parallels between the impermanence of my organic textile materials and our human bodies," Haskell said. After the handwoven linen has been weathered and dyed, she embellishes it with hand stitching to add details to the imagery and story. Thread by thread, Haskell says she seeks "to make visible the known and unknown, the concrete and the mysterious."
Haskell is an award-winning artist and educator who has been weaving and teaching for over fifty years. She has a BFA in Textiles from Rhode Island School of Design and MA in Arts/Healing from Wisdom University. Sarah has exhibited at museums and galleries and has been published in FiberArt Now magazine. She is a member of the American Craft Council and the Surface Design Association. In 2021, Haskell was named the Maine Arts Commission Visual Arts Fellow.
The works in this Art in the Capitol show, which can be viewed as a free, self-guided exhibition, are located the ground floor of the State House and are available to purchase.For sales inquiries, please contact Sarah Haskell at sarah@sarahhaskell.com, 207-475-7083. To learn more about Sarah visit her website at sarahhaskell.com
The Art in the Capitol program is administered by the Maine Arts Commission and is designed to expand accessibility for Maine artists working in state on Maine-based themes. To learn more contact Special Projects Director Khristina Kurasz at Khristina.kurasz@maine.gov.
Filter Press Releases
Contact Information
Khristina Kurasz
193 State Street
SHS 25
Augusta
ME
04333
207-287-2713
vog.eniam@zsaruk.anitsirhk