Art in the Capitol exhibits international painter Christopher O'Connor
---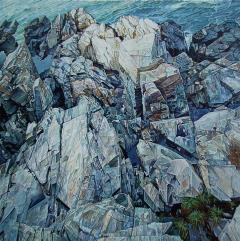 Art in the Capitol exhibits international painter Christopher O'Connor
Currently on display at the Maine State House until April 30, 2019
The Maine Arts Commission is honored to exhibit the work of painter Christopher O'Connor as part of a selection of 22 paintings from his series "Coastal Waters." O'Connor's work will be on display as a free exhibit in the Maine State House, open to the public from 8:00 a.m. - 5:00 p.m. Monday through Friday.
Coastal Waters explores the subject of Maine's rugged coastline on various size canvases. Through the use of vibrant coloring and rigorously constructed compositions, O'Connor says he strives to compose paintings that conjure up an immediate visual impact, one that engages with the detail and structure implicit in each painting.
"My intention is to create works that elicit a quiet sense of balance and calm in the viewer," O'Connor says referring to his current body of work. "It is through the surface quality of the paint and within the distilled composition of the painting that the intention of my work is revealed."
O'Connor was born in Ireland where he developed a passion for painting. As a young man, he traveled extensively to Europe and the US for inspiration before returning to the quiet hills of Killarney to further develop and refine his work. Over the years O'Connor says he has been drawn to a diverse range of artists and styles. "I have come to understand that the artworks that I am most captivated by all have similar qualities - a strong compositional sense, layered coloring, a vibrant surface quality, restrained intensity," O'Connor says. "Add to these the dogged determination to work on a piece until it is finished, and you have works of art that are enduring and endlessly engaging."
In 2012 O'Connor moved to Portland where he was drawn to Maine's rugged coastline. He said he fell in love with the contrast of jagged granite and aquamarine. Considered masterful in the styles of pointillism and expressionism, O'Connor approaches the landscape genre with intense detailed colorwork, predominately on large canvases, creating an abstract realism aesthetic.
Coastal Waters can be viewed as a free, self-guided exhibition, located on both the ground floor and second floor of the Maine State House. All works are available to purchase. The Art in the Capitol program is administered by the Maine Arts Commission and is designed to expand accessibility for Maine artists working in state on Maine-based themes. To learn more about the program visit: www.MaineArts.com/artinthecapitol or contact Julie Horn, Visual Arts Director at julie.horn@maine.gov
Filter Press Releases
Contact Information
Ryan Leighton
193 State Street
SHS 25
Augusta
ME
04333
207-287-2726
vog.eniam@nothgiel.j.nayr