Artist Author Collaboration Celebrates Life on Great Cranberry Island
---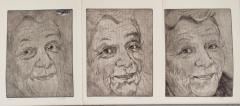 PRESS RELEASE
For immediate release, August 11, 2023
Artist Author Collaboration Celebrates Life on Great Cranberry Island
The Great Cranberry Island Portrait Project
By Janet Best Badger and Rebecca Buyers
Book Design by Andis Applewhite
2023
CRANBERRY ISLES — "If once you have slept on an island, you'll never be quite the same," poet Rachel Field famously wrote about her beloved Sutton Island, one of the five that make up the Cranberry Isles. That maxim proved true for a Bangor artist and a Mount Desert Island journalist who met on Great Cranberry Island a decade and a half ago. The duo have just published an art and oral history book that celebrates the lives of longtime island residents.
As Heliker-Lahotan Foundation artists-in-residents in the summer of 2009, printmaker Janet Best Badger and writer Rebecca Buyers created the "The Great Cranberry Island Portrait Project," a collection of larger-than-life black and white and color prints, documentary photographs and oral histories of a dozen of the island's 37 residents.
Buyers, a College of the Atlantic graduate, then a reporter and photojournalist for the Mount Desert Islander, interviewed and photographed subjects, while Badger, an award-winning printmaker sketched and listened.
They sat with fishermen, crab pickers, summer residents, world travelers and those whose livers were bounded by the island's shores. They interviewed the oldest and youngest members of the community and many in between. Each subject lent their unique voice and visage to the collective work which chronicles a way of life that is fast disappearing.
The islanders who volunteered to share their memories for the project included: Marlene Allen, Anne Alley, "Junior Bracy, Gaile Colby, Malcolm Donald, Sofie Dowling, Eva Galyean, Louise Millar, Michael Richman, Clara Wedge, Ruth Westphal and Phil Whitney.
"I learned something about the person behind each of the faces I would capture on metal to create art," writes Badger, who was inspired to create intaglio prints of some of the longtime island residents after assisting a fellow printmaker in a workshop on Great Cranberry Island.
"We listened as folks told us about their lives, on and off the island," Buyers writes. "At the conclusion of each interview, there was a sense of catching and holding something valuable from the receding tide of the past."
"The Great Cranberry Island Portrait Project" was supported by the Heliker-Lahotan-Foundation and a grant from The Maine Arts Commission. It has been exhibited at the Great Cranberry Island Historical Society, the Ethel H. Blum Gallery at College of the Atlantic in Bar Harbor and the State House in Augusta. Now it is available for all to view in book form.
Copies may be ordered at:
https://www.blurb.com/bookstore/invited/9970712/9ef1fdbff1e0c003b94ba8f566f273571362ab77
The Heliker-LaHotan Foundation is a private charitable foundation incorporated in the State of New York in 1993. It was the wish of John Heliker and Robert LaHotan that their home and studios continue to be used by artists. To this end they left their estates to a Foundation with a mandate to operate the complex of buildings on Great Cranberry Island in Maine as a place for artists to live and work.
The Maine Arts Commission is a government agency that fosters and encourages public interest and participation in the cultural heritage and artistic expression in our state. We pursue our mission through partnerships and collaborations, initiatives, advocacy, and grants for organizations, individual artists, communities, and schools throughout Maine.
Rebecca Buyers has spent summer on the coast of Maine since she was a child and discovered the charms of the Mount Desert Island area in 1979 when she transferred from Princeton University to the newly formed College of the Atlantic. While a student she taught gymnastics to school children living on Great Cranberry and Little Cranberry Islands. She got her start as a journalist writing for the Bar Harbor Times, then earned a Bachelor of Journalism from Carleton University in Ottawa, Canada, returning to the area as beat reporter for the Ellsworth American and the Mount Desert Islander.
Buyers has recently returned to Maine, after living in London for several years, where she studied creative writing and earned a Master's Degree from Birkbeck University College London (UCL). She is the author of The Marvelous Macadamia Nut and is currently working on an autobiographical novel.
Janet Best Badger spent her formative years in Beaumont, Texas. An artist since she could first hold a pencil, she became a printmaker after her first college course in etching. She took those skills, plus a small etching press, with her when she moved to the US Virgin Islands, and later Antigua in the West Indies. She was a member of the Antigua Artist Society and exhibited her work. In addition to the Caribbean, she spent several years in Moscow, Russia where she added mezzotint to her skill set and studied classic intaglio techniques under Leonid Zorin. She also worked with etcher Lyuba Yukina, and fellow printmakers at Studio Nivinskovo, where she had a one-woman exhibition in 1998.
A member of PrintHouston in Houston, TX where she resides, the American Color Print Society, (Pennsylvania) and was a longtime member of the International Mezzotint Society, Badger has won awards in member shows and in national and international juried competitions. Her prints are in the permanent collections of The Brand Library (Glendale, CA), The Beaumont Art League (Beaumont, TX), and the University of Arkansas. Most recently she had a drypoint on plexiglass juried into the Boston Printmaker's Biennial Exhibition.
For more information contact:
Rebecca Buyers at rwbuyers@gmail.com or (207) 256-4444
Janet Best Badger at janet.badger@gmail.com
Image, attached, is a print of Anne Rice Alley by Janet Best Badger
Filter Press Releases
Contact Information
Rebecca Buyers
.
Augusta
ME
04333
(207) 256-4444
moc.liamg@sreyubwr