CALL FOR ARTISTS - PLEIN AIR PAINT OUT MT AGAMENTICUS 9/25/21
---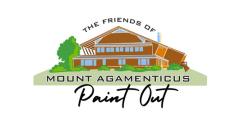 The First Annual Friends of Mount Agamenticus Plein Air Paint Out will be held Saturday, September 25 at Mount Agamenticus (rain date September 26).
Call For Artists! The event is open to painters in all wall hung media. Artists, pre-register for this event online!
Spots are limited; pre-registration does not guarantee a spot. Submissions, including artwork samples, are due by August 31 and review will begin at this time. There is a $10 non-refundable registration fee for this event, payable to the "Friends of Mount Agamenticus."
July 12: registration open
August 31: registration due
September 25 (rain date September 26):
7:00-9:00am: Artists check in at the summit of Mount Agamenticus (21 Mount Agamenticus Road, York ME 03906 – driving directions).
A bagged lunch will be provided by the York Maine Rotary Club!
9:00am-3:00pm: Artists paint on site at Mount Agamenticus in locations of their choosing.
2:00-5:00pm: One piece per artist to be wet mount, priced, and brought to York Art Association for exhibition (394 York Street, York Harbor ME 03911).
5:00-7:00pm: Artists' reception at York Art Association.
York Art Association will host an exhibition of the work created starting September 25, and will charge a 40% commission on all gallery sales, to support YAA and the Friends of Mount Agamenticus, both nonprofit 501(c)3 organizations. There will be a public opening reception for the artists from 5:00-7:00pm on September 25 at the York Art Association.
Inspiring stewardship of our surroundings. The Friends of Mount Agamenticus is a volunteer advocacy and stewardship group for the Mount Agamenticus Conservation Program. The role of the Friends is to assist Program staff in carrying out educational, interpretive, community outreach and public use objectives without compromising the integrity of the region's sensitive ecological habitat.