Documentary exploring aging and home coming to Augusta Colonial Theater - June 12th
---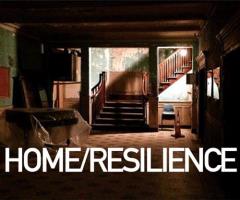 Augusta, ME — Home/Resilience, a documentary installation about aging, wisdom, and home, opens at the historic Augusta Colonial in downtown Augusta, Maine on Friday June 12, 2015 from 6:30pm - 9:30pm. A collaborative work by Maine artists Caroline Losneck, Chris Byron, and Kelly Rioux, audiences experience Home/Resilience as 'welcomed visitors' into a reimaged home and are invited into a multi-storyline and immersive installation. Home/Resilience is free and open to the public and will be open for a month (at select times, TBA). Losneck, Byron, and Rioux received a competitive SPACE GALLERY Kindling Fund for Home/Resilience. The Kindling Fund values risk and experimentation, unconventional engagement, and critical dialogue, and encourages collaborative efforts to reach new audiences, increase public interaction, and create new models for presenting artists' work. (www.kindlingfund.org)
Through the stories and voices of Ruth and Nona, Home/Resilience raises questions and inspires conversations about wisdom and aging – offering insights about our notions of 'home.' Beyond a traditional documentary film, photography show, or radio story, participants experience Home/Resilience by walking into an installation revolving around Ruth and Nona, dynamic nonagenarian women that represent aging Americans. Home/Resilience highlights issues of isolation as well as the importance of community in sustaining life.
Still from HOME FOR WOMEN, a short documentary film that screens as part of Home/Resilience.
Home/Resilience invites audiences inside a reimagined home woven with fragments of audio and visual histories. It features layered mixed media portraits by visual artist Kelly Rioux, audio stories based on oral histories by Caroline Losneck, and sculpture by Chris Byron.
"Combining our art forms brings the stories and voices of Ruth and Nona and other older elders alive in ways we could never have imagined," says Caroline Losneck. Losneck adds, "It's common for the stories of elders to be simplified and stereotyped in American culture. We are creating space for complexities to emerge by building multiple layers of experience and meaning into the Home/Resilience installation. We hope Home/Resilience inspires conversation about aging and what it means to live in - and belong to - a community."
The artists say that the themes in Home/Resilience seem to resonate with people."One of the things we've discovered over the six months we've been working on this project is that everyone can relate to this story in some way. Everyone has an older friend, relative or partner that is aging. We hear the statistics that Maine's population is aging. In Home/Resilience, we hope to address larger issues of aging and the role of the community as we age," says visual artist Kelly Rioux.
The site-specific Home/Resilience will debut at the historic Augusta Colonial Theater, in downtown Augusta, Maine. The Theater closed in 1969, and is now undergoing revitalization. Losneck, Byron and Rioux fell in love with the theater the moment they stepped foot in it. "We are really honored to be working in the Augusta community with Richard Parkhurst from the Augusta Colonial Theater, the Augusta Downtown Alliance, assisted living facilities, the city of Augusta, and others," says Losneck. "And of course, we've been honored to work with Ruth and Nona, and are so grateful they've allowed us into their lives and shared their stories."
Despite the major restoration needed to bring the Augusta Colonial Theater back to its original condition, the artists all share the vision for its renewal and the goal for it to become a home for art and creativity in Maine's capital city. "There are thematic parallels with Home/Resilience and the re-invigoration of the Augusta Colonial Theater as a community home for arts and experimentation," says Chris Byron. Losneck, Byron, and Rioux are working with artist Randy Hazelton to project historic images of the Augusta Colonial Theater for the opening of the Home/Resilience installation on June 12th, as a way to activate the building.
As part of Home/Resilience, the artists are offering oral history and memory portrait workshops in Augusta assisted living facilities, like the Inn at City Hall in the Fall. Augusta city councilors recently approved funds from the city's Downtown TIF District account to be used for this effort. "These funds will be used to continue interviewing residents at local senior housing locations, which we think is a natural, and important, extension of our project," says Losneck.
As part of Home/Resilience, the short documentary film A HOME FOR WOMEN will screen on a 'front porch micro-cinema' built into the installation. A HOME FOR WOMEN (by Caroline Losneck, Betsy Carson, and Kate Kaminski) tells the story of Nona and Ruth, two resilient ladies in their 90s, who are preparing to move from St. Mark's Home, where they've lived for close to a decade. Although both must move to new living situations, they have different points of view about leaving. Ruth remains stoic and fiercely independent, while Nona admits she's not always good at change, and worries about being the last resident left. This 10-minute documentary snapshot bears witness to the adaptability and wisdom of these two remarkable nonagenarians.
A HOME FOR WOMEN will also screen on JUNE 20th at 6:30pm at the Augusta Colonial Theater as part of the Camden International Film Festival's 'Aging in Maine' statewide screening tour along with the short documentary films "The Caretaker" (7mins) and"De 'mem'bunce -The Remembrance" (8mins). It will be followed by a filmmaker and artist Q&A.
For more information about Home/Resilience, please visit www.homeresilience.org/
*Please note: the Augusta Colonial Theater is open on occasional weekends and by appointment during the summer. *The hours for the Home/Resilience installation (June 12 - July 11th) will be updated on the project website at http://www.homeresilience.org
ABOUT The Augusta Colonial Theater
The Augusta Colonial Theater is an important piece of Augusta's history. It played a critical role in the early film industry in this country. The Theater was opened in downtown Augusta in 1913 and it featured silent films with live music until sound pictures were introduced in the late 1920s. Several films were made in Augusta and premiered at the Colonial Theater. It showed the last movie in 1969, and has been shuttered until recently. The theater is now being renovated. For more information about the Theater, please visit www.augustacolonialtheater.org/ or email Richard Parkhurst, President, Augusta Colonial Theater at richard@augustacolonialtheater.org, or 207/557-3930.
ABOUT The Kindling Fund
SPACE Gallery created The Kindling Fund to support the energy of Maine's visual arts community by funding innovative, artist-organized projects that engage the public in ways that are both inventive and meaningful. The Kindling Fund values risk and experimentation, unconventional engagement, and critical dialogue, and encourages collaborative efforts to reach new audiences, increase public interaction, and create new models for presenting artists' work. The Fund seeks to support a variety of publicly accessible projects, with a strong interest in alternative space/practices and site-specific presentations that don't fit in established institutions or venues. The Kindling Fund is a part of the Regional Regranting Program of The Andy Warhol Foundation for the Visual Arts. This program matches Warhol Foundation support with localized partner organizations who value artist-driven contemporary and independent practices. SPACE Gallery joins eight other regranting projects around the United States, bringing a new kind of support to the state of Maine.