Evol-Eye co.'s Enamel Pin Series Fully Funded in Less Than 3 Hours On Kickstarter
---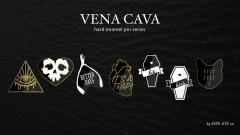 Evol-Eye co.'s Enamel Pin Series Fully Funded in Less Than 3 Hours On Kickstarter
A Creative Passion Project Dedicated to Love, Loss, and Hope For Better Days has Quickly Impressed Many.
PORTLAND, ME – 07/31/19: Jewelry, pins, and other artistic endeavors are often created and sought for their aesthetic. Evol-Eye co.'s new Vena Cava enamel pin series is being noticed for an additional factor: It's message of love, loss, and hope for the future in the face of mental illness. After releasing a Kickstarter campaign on July 16th, the pin series reached full funding in less than 3 hours. With 14 days to go, the new business has raised almost 700% of the original funding goal.
Evol-Eye co. founder, Christy Woods, used her extensive graphic design background to bring her vision for the series to life. The pins are made of hard enamel and gold plating (with the exception of the "His and Hers Coffins" designs, which are made of soft enamel). They are 1.25 inches in size and feature a branded back stamp, rubber clutch, and a gold foil backing card. Including a total of 7 designs, the series is comprised of the following pins: "Evol-Eye Logo," "Love and Death," "Make a Wish," "Love's a Trap," "His and Hers Coffins," and "Out of Luck." When asked about her decision to start Evol-Eye co. in addition to her creative agency, Eyelet Creative, Woods said, "After years of creating art for other people, I'm finally creating for myself again. I honestly haven't been this passionate about a project in a very long time."
Developing the Vena Cava pin series has allowed Woods to express her own struggles with chronic anxiety and depression. Having worked in commercial design for over a decade, the Vena Cava pin series is Woods' return to creating art as her emotional outlet. Using unique designs, she aspires to not only express solidarity with those facing mental illnesses and loss but to also inspire love and hope for the future. "Ultimately, I hope these pins will help others express themselves like designing them has helped me," Woods said. Clearly, her enthusiastic Kickstarter supporters are feeling this connection already.
The Vena Cava pin series is Evol-Eye co.'s first major endeavor, but Woods has many future plans for expanding the brand. Already overjoyed by the response to the Kickstarter campaign, Woods is encouraging those interested to continue funding the project in order to bring those plans to life sooner. More pin series, patches, apparel, and accessories are just the beginning. Woods plans on featuring her work in pin subscription boxes, retail in local Portland shops, and presence at pin and patch conventions as a routine part of the business. She is excited to showcase her designs in the Portland, Maine art scene and potentially collaborate with other artists.
Evol-Eye co.'s Kickstarter campaign is offering incentives of discounted pins, stickers, tote bags, and bonus pins. In the end Woods hopes that everyone from pin collectors, artists and design enthusiasts alike can find solace and solidarity in Evol-Eye co.'s designs, with the Kickstarter campaign being just the beginning.
You can access Evol-Eye co.'s Kickstarter campaign here through August 14th.
About Evol-Eye co.:
Evol-Eye co. is a newly founded, woman-owned retail business in Portland, ME. Founder and Designer, Christy Woods, is a New Hampshire native and founder of the creative agency Eyelet Creative. For more information on the campaign, please go to: www.instagram.com/evoleye or email Christy at love@evoleye.co