Footfalls of the Unknown poems by Bethel, ME resident Richard Taylor
---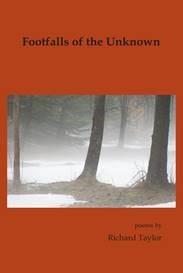 Goose River Press is pleased to announce the publication of Footfalls of the Unknown poemsby Bethel, ME resident Richard Taylor. The official publication date is set for July 1, 2020.
These poems speak both to and from voices young and old, when age is anything but linear, the simple succession of our days into a future. It accumulates, forever visiting its pasts and futures, leaping ahead of itself from the very beginning and forever eddying back, charmed and scarred by its early wonders, affections and sorrows. More sober contemplation follows, fresh with alarm and quickened wit. At any moment we are all the ages we have ever been, reliving their mysteries. Footfalls approach, warily and unbidden, full of pasts and futures, talking, taking our hands. We listen, and, if we dare, dance with them.
His parents both from Maine, Richard Taylor grew up in rural New Hampshire. His education came from Dartmouth, the University of Kiel (Fulbright Fellowship) and Yale. He has been a teacher of German language and literature in colleges, Latin and English as well at private secondary schools. A member of the 1964 Olympic Nordic Ski Team and for many years a staff coach with the National Team, he has been variously a construction worker, ski touring center designer and operator, a translator, and for twenty years (through 2007) a teacher of German, Latin, and English and a running and cross-country ski coach at Gould Academy in Bethel, Maine. He and his wife Sally still live in Bethel. His first book, The Absence of Strangers, was published by Goose River Press in 2017.
If you are interested in having Richard for a book signing, TV/radio/newspaper interview and/or appearance, please contact Goose River Press to make arrangements. Books are available from the publisher and your local bookstore.