LA Arts Presents the 3rd Annual Fiddlers' Rendezvous
---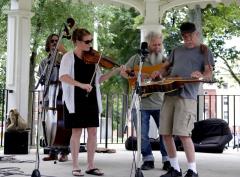 LA Arts Presents the 3rd Annual Fiddlers' Rendezvous
August 13 / 1:00 – 4:00pm / Kennedy Park, Lewiston
Lewiston, Maine (8/2/23) – LA Arts is pleased to present the 3rd Annual Fiddlers' Rendezvous at the gazebo in Kennedy Park on Sunday, August 13, from 1-4pm. The lineup of accomplished musicians includes Steve Muise (fiddle), Elsie Gawler (cello, banjo and fiddle), Molly Gawler (fiddle and dance), Ethan Tischler (guitar and fiddle), Willy Clemenson (fiddle), Aidan Boardman (guitar), and Greg Boardman (fiddle). In the event of rain, the performance will be moved to the Trinity Commons (Trinity Church) at 247 Bates St. in Lewiston.
The event, showcasing multiple fiddling styles, is being offered to the public free of charge under the sponsorship of LA Arts. Attendees should set up chairs and blankets for seating and plan to enjoy an afternoon of traditional fiddle tunes, songs, and original works by some of Maine's most passionate fiddle enthusiasts.
"I am delighted to be sharing the stage with so many of our state's finest and most inspired traditional musicians," said Fiddlers' Rendezvous founder and master of ceremonies, Greg Boardman. Jim Parakilas, chair of LA Arts, adds "our organization is thrilled to be supporting this gathering of incredibly talented musicians and sharing such a rich musical experience with our local community."
3rd Annual Fiddlers' Rendezvous
Gazebo at Kennedy Park, Lewiston, ME.
Rain location: Trinity Commons Trinity Commons (Trinity Church) at 247 Bates St. in Lewiston
Date: Sunday, August 13
Time: 1:00 – 4:00pm
Cost: Free
Open to all ages
Bring lawn chairs and blankets
Photo caption: Musicians jamming at the 2022 Fiddlers' Rendezvous event at Kennedy Park.
Photos taken by Gary Stallsworth
Musicians:
Steve Muise has been fiddling with his family's Downeast Style for many years. (His parents are 1st and 2nd generation Nova Scotians) He founded the Franklin County Fiddlers, a group of high school musicians that tours around Maine and way beyond displaying, promoting and learning about fiddle styles. Steve is a graduate of Berklee College of Music, and is a stringed instrument teacher in the MBRSD schools (Farmington area). Steve was honored with the "Maine Music Educator of the Year" award in 2007 from MMEA. Steve enjoys playing all styles, ranging from Downeast (maritime), Québécois, Celtic, and jazz, and can be seen playing music with his dad Paul, Boréal Tordu, Frigate, Muisette and the Franklin County Fiddlers.
Elsie Gawler is a multi-instrumentalist and songster rooted in Maine's traditional folk music and culture. With her family, the Gawler Family Band, she has played throughout the state and beyond, sharing traditional fiddle tunes, songs, and original works since she was 6 years old. From this foundation she has branched out and launched her debut solo album, Sweet As Honey. The album is a collection of 9 original songs inspired by sacred connection to earth and community. While continuing to play regularly with The Gawler Family Band, her other projects include duo Elsie & Ethan, and trio The Gawler Sisters. She has also been a long-time member of the group Childsplay.
Molly Gawler is a dancer, musician and mom. She founded her own company in 2012 called Droplet Dance, a collection of solo dance works with elements of acrobatics and story told by movement created with live music from the folk traditions of Maine. As a youngster, Molly studied ballet with Andrei Bossov in Pittsfield, Maine and furthered her dance training in college with contemporary and modern at SUNY Purchase in NY. She danced with various choreographers in New York City such as Corbin Dances and Nøa Dance. After that, she toured the world with Pilobolus Dance Theater and starred in the lead role of the 'dog-girl' in the show Shadowland. While a part of Pilobolus she appeared on Oprah, the Golden Globes, the Royal Variety Show and the Academy Awards. Her life led her to study circus at New England Center for Circus Arts in Brattleboro, VT where she learned Cyr Wheel, Aerial Arts and acrobatics. Molly came full circle, back home to Maine where she performs, plays fiddle, sings and teaches movement of all types. One of her greatest joys is being a mother to four year old, Caspian, and baby Mica.
Ethan Stokes Tischler has been singing and playing music since about the age of 2, and teaching professionally for the last 5 years, alongside performances with the Gawler Family Band, folk duo Elsie & Ethan, and family music group Mr. Chris & Friends. Whether in private lessons, or sharing music in school/outdoor environments, he delights in meeting students right where they're at, and working together to find music that feels exciting and energizing. Ethan values a slow, organic approach to musical growth, that allows students to take things at their own pace and avoids a sense of rush or pressure. Given that the music is already inside all of us, Ethan feels his role is simply to help each student discover and gain confidence in their own unique and valuable voice. below:
Aidan Boardman is a vocalist/multi-instrumentalist and teacher, teaching primarily at Greene Hill School in Fort Greene, Brooklyn. He is also pursuing songwriting and recording under the pseudonyms, anguid and Dreamt. Aidan's teaching focuses on developing guitar technique, posture, creative harmonies, and ear-training.
Greg Boardman traded his electric guitar for a fiddle upon hearing Dave Swarbrick play with Fairport Convention at the King's Rook, in Ipswich, Massachusetts, back in 1970. Roving out later from my home in central Maine, he soon discovered a cadre of peer fiddling expeditionaries (including many Maine Fiddle Camp staffers) and a couple of older generations boasting of some very fine country and traditional musicians. Among these, Cherry Frechette, Otto Soper, Fred Pike, Leo Murphy, Simon St. Pierre, Ben Guillemette and Lucien Matthieu, to mention a few, made a great impact upon Greg's life and music. Dudley Laufman of Canterbury, New Hampshire, whose itinerant musician's license still brings him frequently to Maine, has also been a seminal musical influence, not to mention the very welcome new wave of younger musicians who are infusing our scene with great energy, creativity and feeling. Greg continues to teach bowed strings to elementary school children, produce music events, assist in music for worship, and perform around the state from his family base in Lewiston.
Thanks to our CHAMPION sponsors!
LA Arts continues to engage and inspire a vibrant community through arts and culture with support from its generous Champion Sponsors, including Austin & Associates, Bangor Savings Bank Foundation, Bates College, Baxter Brewing Co., Berman & Simmons, Blais Flowers & Garden Center, the City of Auburn, the City of Lewiston, DaVinci's Eatery, Helen & George Ladd Charitable Fund, Liberty Mutual Group, Maine Arts Commission, Mount Auburn Dental, Munka Coworking and Studio, New England Foundation for the Arts, the Onion Foundation, Sun Journal, Szanton Company, and new LA Arts media sponsor Turner Publishing.
Filter Press Releases
Contact Information
Gerald Walsh
LA Arts
Lewiston
ME
04000
(207) 782-7228
gro.straal@hslaw.dlareg